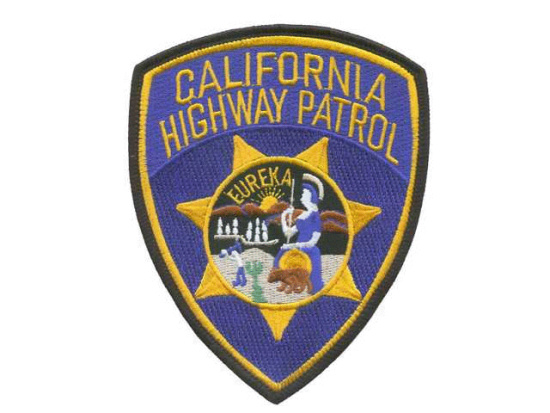 UPDATE 11:20 a.m.: California Highway Patrol Press Release:
On the night of July 3rd, A solo vehicle traffic collision at the intersection of Drake Hill Road and Ronald Avenue in the Fortuna area claimed the lives of a father and son.

At approximately 9:00 p.m., 53 year old Jacky Martin of San Francisco was driving a 2004 Mini Cooper southbound on Ronald Avenue, approaching the intersection of Drake Hill Road. 74 year old Thomas Martin of Fortuna, Jacky's father, was seated in the right front passenger seat. Jacky, who was driving under the influence of alcohol, failed to stop at the intersection of Drake Hill Road. As the Mini Cooper continued through the intersection, Jacky applied the vehicle's brakes and turned to the left. The Mini Cooper's passenger side subsequently collided into a dirt embankment south of the intersection. This impact combined with the vehicle's velocity at impact caused the vehicle to overturn. The Mini Cooper ultimately came to rest on its roof. Neither Jacky nor Thomas were wearing their seat belts at the time of the collision. Thomas remained in the vehicle, but Jacky was partially ejected. Jacky was declared deceased at the scene and Thomas was transported by ground ambulance to Redwood Memorial Hospital in Fortuna where he succumbed to his injuries the early morning of July 4th.

DUI is believed to be a factor in this traffic collision. The collision scene was managed with the assistance of the Fortuna Police Department and the Fortuna Volunteer Fire Department. The CHP Humboldt Area office is investigating this traffic collision.

This collision occurred on the eve of Independence Day during the CHP's Independence Day Maximum Enforcement Period. The CHP will continue to heavily enforce DUI activity and unbelted occupants through the weekend along with the anticipated increased number of motorists on Humboldt County's roadways. We urge all motorists to plan ahead and designate a sober driver before the festivities begin.

####
One person died and one person was injured in an accident that occurred about 9 p.m. near the intersection of Drake Hill Road and Ronald Ave in Fortuna.
Details are unavailable at this time but we do know that only seven months ago another fatal accident occurred near there. In that accident a 25-year-old Fortuna man was killed and two young Southern Humboldt women were seriously injured.
We have a call into the California Highway Patrol Office and will update with more information as soon as possible.