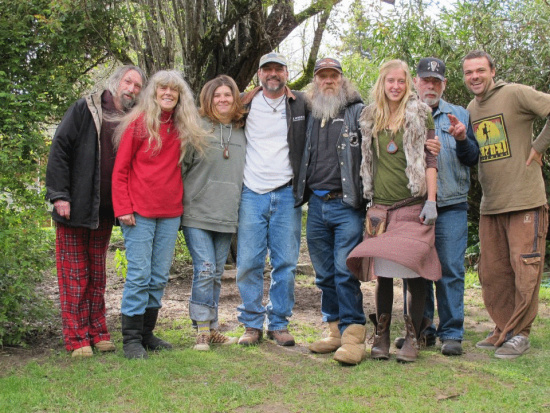 Terry Hogan and Jackie Pantaleo on the left, Marc Patterson second from the right with friends who pitch in to help the trio.
There is a severe shortage of low income housing in Humboldt—particularly in Southern Humboldt. According to the National Low Income Housing Coalition, for every 100 low income families looking for places to rent in the United States, there are only 30 units that meet their needs. Though no one we spoke to was able to quantify the number of these units available in the county, many agreed that the situation in the southern half was probably quite a bit worse than the national average.
Brian Elie, owner of a realty in Garberville, calls the entire rental market in Southern Humboldt a "dire situation." Eli said, "People literally rent chicken coops and convert them into something livable."
Terry Hogan, known as Coco, unfortunately, understands the situation better than most. This coming Monday, the popular community member and long time Mateel volunteer along with his partner Jackie Pantaleo (a KMUD and Mateel volunteer) and their roommate, Marc Patterson (one time KMUD board president) will be without a home. The three, along with Pantaleo's 10-year-old granddaughter who lives with them part time, have been struggling to find a place to move into for over a year.
Hogan explained that they must move. "We're being evicted Monday…we're not sure where to go…someone donated an RV and [there is] someone who will donate a bus." But Hogan doesn't know where the RV or bus can be parked.
Finding a home for the group isn't easy. Hogan, Pantaleo, and Patterson all have health issues. "Cousin Marc," Hogan said, "has Parkinson's Disease and Lymphoma. He's 72 [and has been] living with us for seven years."
When Patterson lost his home, Pantaleo explained, they took him in to live with them. "We brought him in thinking something would come along somewhere," she said, "but instead he had a litany things go wrong."
"So," she said, "We folded him like whipping cream into berries. He's part of our family now."
Also part of their family are six rescue cats. "One has three legs," Pantaleo said. "Three are over 12." She worries what will happen to them when they are forced to move. "I befriended this old tom cat," she said. "I've been feeding him for a couple years now. It kills me to think of him coming here to get his food but we're not here. What if the people who come here treat him badly?"
Pantaleo also has part time custody of her 10-year-old granddaughter.
According to several in the real estate market, even those with solid jobs and simpler families—teachers, officers working for the California Highway Patrol, etc.—often live up north and commute to the southern half of the county because finding rentals in the Garberville area can be impossible.
Realtor, Brian Elie, said that finding any kind of housing, low income or not, in the bottom part of the county is hard. "The rental thing in So Hum is really difficult. Most rentals are word of mouth," he explained. He noted, there are a few new teachers coming to the area this year and finding homes for them is tough. "It is difficult for almost anyone whether they are well employed or not," he said.
Elie said, some people rent places in Rio Dell or Fortuna and drive down to Garberville or Redway in order to work.
"As a Realtor," Eli said, "someone comes in 3 or 4 days a week looking for a rental." But he rarely has one. Most, he said, can only be found by word of mouth. "I tell people looking, to talk to everyone they know."
Kathy Epling, a business owner in Garberville, said, "It is a big issue for any one trying to work in the area." As part of her participation in Southern Humboldt Working Together, she has paid attention to the situation. There aren't many affordable housing units in the area, she said, "[and] there aren't many places to build houses/apartments" because of zoning issues.
The problem in Southern Humboldt is severe, she said, and people are often placed in untenable positions. Some residents, she said, have lived in the area a long time but now can't find housing. "You don't want people to have to leave the community but there are more rentals [in the northern part of the county.] However, that means people detaching from the community in which they have been very, very active."
Jackie Pantaleo said moving away from the area would be almost unimaginable. She and Hogan are still very involved in volunteering for the community, she needs to be near her granddaughter's school and not far from medical care because of Patterson. "I need to be in reasonable distance from the emergency room," she said. "Cousin Marc had to be taken to the emergency room six times in the last three months." Patterson has also been receiving chemotherapy for his lymphoma.
In addition, Hogan explained, "We have a small community of people that depend on this house." There's Babette, he says, "who cooks the Mateel meal. She lives in Fortuna but she stays here when she does the meal three days a week."
There are others who help the community and help Pantaleo, Patterson, and Hogan in return for a place to stay sometimes.
A friend, Hogan said, has offered them a $50,000 loan to help them buy a place but there aren't many places that would accept $50,000 and payments every month with the income he and Pantaleo have.
Hogan said, "If we could just find a [mobile home] now, then we would buy some time through the end of the summer, but we got to have water. We got offered a place with no water and no electrical—that's just too much of a hardship."
"I had cancer. I've been on disability for…getting run over by a truck in '72," Hogan said. With the health issues faced by the three seniors, he pointed out, they need to have some amenities.
For elders and the disabled being unable to find housing can be a death sentence. As Epling explained, recent research into low income issues shows "if [people] have no place to sleep, then medical problems get worse."
There has been some low income housing built in the area in recent years. There was senior housing built in Garberville and low income housing built in Redway. Christina Huff, Coordinator at the Southern Humboldt Family Resource Center, said that these have "made a big difference…been a godsend. [However,] there could be many more of these."
Huff explained that the Eureka Housing Authority, which despite its name, works to provide housing for low and moderate income families countywide, has a "four to five year waiting list" of people needing help. The housing situation is so bad, she said, "We frequently encourage people to move."
Lois Cordova is a senior who is currently homeless. (See her story here.) She has often stayed with Pantaleo and Hogan and is now helping them pack their household goods for storage.
She said that there are multiple seniors in the area that have been forced into homelessness. She doesn't want to see the same happen to her friends, Pantaleo, Hogan and Patterson. She wrote on her Facebook page a few days ago,
We've helped build our community…. [W]e've brought news, education and music to your radios; we've volunteered thousands and thousands of hours… . What we need are homes we can afford in our own community where we have the support of friends and family, activities and jobs that mean something to us, where we can keep our pets and grow our food and take care of one another, where life is familiar. What we need are homes, DAMMIT! Affordable, real HOMES."