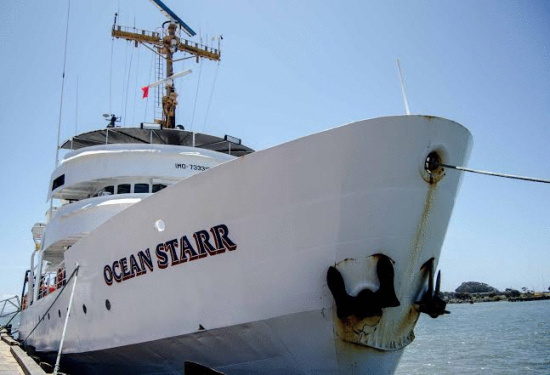 After a news day like today, we all need a reminder of Humboldt's brighter side. Seeing the beautiful ships that visit is one of the perks of living around here. Today, the Ocean Starr, currently researching for the National Oceanic and Atmospheric Administration (NOAA), slid into the Humboldt Bay to resupply.
Mark Ahrens, local resident and photographer not only took photos but spoke with Shelby Muren, Vessel Operations Manager. Ahrens wrote,
Research ship Ocean Starr operated by Stabbert Maritime, Ocean Services ported in Humboldt Bay to resupply today. Ocean Starr is under contract to serve as a scientific research platform for a series of studies commissioned by the National Oceanic and Atmospheric Administration (NOAA) this summer.

Studies which are underway are related to: water quality along the west coast, rock fish species along the Northern California and Oregon coastline, as well as research related to the salmon fisheries from Astoria, Oregon to San Francisco, California. Teams of scientists will be working off shore on these research projects and more through September. The Ocean Starr calls Seattle, Washington her home port.
Thanks for stopping in, Ocean Starr. Pleasure to see you.