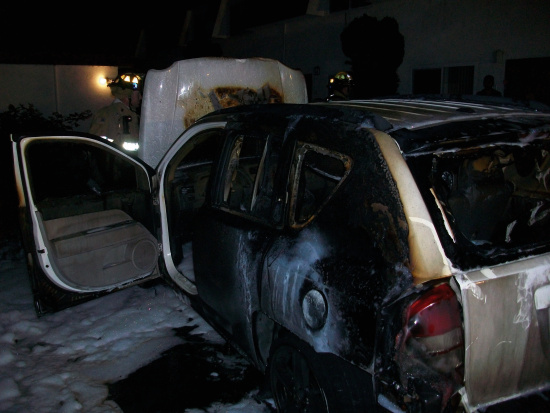 From the Fortuna Police Department:
On June 17th 2014 at approximately 10:00 pm, the Fortuna Fire Department responded to the 3100 block of School Street in Fortuna for a report of a vehicle fire. Callers reported that the vehicle was fully involved and parked near an apartment complex. Upon arrival, witnesses reported seeing two subject running from the vehicle just before the fire.

Officers with the Fortuna Police Department responded and determined that that a large amount of fuel had been poured on and around the 2007 Jeep SUV before it was intentionally ignited.The Fortuna Fire Department was on scene for approximately one hour extinguishing the fire. City of Fortuna Public Works also responded to assist with clean up and measures to protect the nearby Mill Creek from the fuel contaminated water.

The department is asking that anyone with information about this crime contact the department or the Anonymous Crime Tip Line at 1-800-78-CRIME. Callers to the Tip line will remain completely anonymous and may be eligible for a reward of up to $1,000.00 if the information leads to an arrest and conviction.