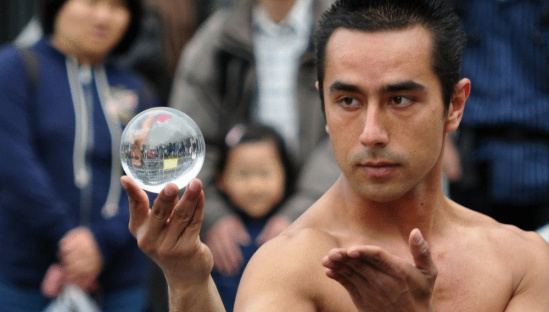 Tomorrow we vote.
That means that today we revisit that age-old LoCO tradition: Election predictions! The Outpost has been picking the winners on or before election day since even before the Outpost existed, and is proud to inform you that its record of success has recently been upgraded from a C-plus to a solid B-minus.
I feel as though I cannot fail. Still: If you want a shot at the king, you must leave your own predictions in the comments for all to see.
And remember: The Lost Coast Outpost is the place you wanna be tomorrow night as the results roll in. We'll be filing updates from the various candidate parties and around the town, and we will (if everything goes right) be the absolute first place to find election results in the three major local races.
How will we do that, you say? Well, as soon as the county elections office posts new results, as it does throughout the night, the LoCOBot will grab that unwieldy PDF, parse it, throw out the races for Congress and assembly and all that other dross, then post a concise, everything-you-need-to-know update to our election night thread. While your elections office PDF is still downloading, it'll already be on the Outpost!
Also, the LoCOBot will tweet out those relevant results in realtime. Follow @LCOutpost.
OK! It's gonna be fun! Now, on with your Lost Coast Outpost's official elex predix!
FIFTH DISTRICT SUPERVISOR
Easiest first. Though he has disillusioned some of his constituents in his first term, Supervisor Ryan Sundberg will cruise to easy victory. Challenger Sharon Latour, not much of a known quantity in the Fifth, got into the game late, raised not very much money and failed to make a compelling case for her candidacy.
Sundberg won by a razor-thin margin in 2010. It won't be so razor-thin this time. Sundberg's fumble through the general plan update process will ensure that the motivated left will turn out to vote against him, but to the great majority of Fifth District residents he has done just fine. "A good portion of what Sundberg has accomplished during his tenure is basic constituent service," writes Jack Durham in this informed Mad River Union endorsement. "People call with complaints, they've got problems. Sundberg listens to their problems, then tries to solve them."
Sundberg: 66 percent
Latour: 34 percent
FOURTH DISTRICT SUPERVISOR
Nailbiter! Like Latour, challenger Chris Kerrigan got into the race late. Unlike her, he made a race of it. Kerrigan – who has plenty of name recognition thanks to his two terms on the Eureka City Council – raised plenty of cash and put together a solid campaign operation. He won his city council seats on the ground, by knocking on every door in town, and he's been back at it in the last few months. He has equalized things.
The way you call this thing probably depends on what kind of city you think Eureka is – and that's a notoriously difficult question to answer. Incumbent Virginia Bass's base is in Old Eureka, "Eureka profundo" – the Moose Lodges and their like, the booster clubs, the Republicans, graduates of Eureka High and St. Bernard's who are over 40. There's a whole different Eureka, of course – Bay Area refugees, the young, people who dream about what the city might be like if the long-standing power structure in the city was a little bit less powerful. The latter – the Kerrigan voters – are probably still smaller in number, but they're motivated as all get-out.
Too close to call, but you gotta give Bass the slight edge. I wouldn't be surprised if we don't know the final outcome of this one until a few weeks have passed.
Bass: 51 percent
Kerrigan: 49 percent
DISTRICT ATTORNEY
It would be a miracle if this doesn't go to a November run-off. While there are certainly leading candidates, each of the four people in this race have built up enough of a posse to ensure that none of them get 50 percent plus one.
A person said to us the other day: "If I didn't know anything, I'd probably vote Arnie Klein!" And we saw what she meant right away. He's an entertaining, devil-may-care stump speaker. A significant segment of the county's large population of proud freaks have rallied to his banner. Sadly, a far more significant segment of that population doesn't care and doesn't vote. Still: If you are seen to poke the bastard in the eye and call it like you see it, at least some people will always vote for you.
Allan Dollison has made his military record a huge part of his campaign persona, and that plays well in the Eel River Valley and parts of Eureka and McKinleyville. But not that well elsewhere. He's been a reasonable presence at the debates, but much of the law-and-order vote that he courts pledged itself to Fleming long ago. Fairly or unfairly, the disciplinary action from the California Bar Association 17 years ago has hurt his candidacy. He'll win the superpatriotic citizenry, but not very much else.
Elan Firpo had a difficult task. As Paul Gallegos's heir apparent, she had to rally his faithful without really being caught doing so. The diehard Gallegosites are, by any measure, a minority at this point. One candidate was going to pick them up, but that candidate would have to pick up more than them.
A difficult task, given all the polarization attached to Gallegos's name. Firpo hasn't done too poorly. She has endorsements from such unlikely quarters as Green Diamond's Neal Ewald and Eureka City Councilmembers Mike Newman and Marian Brady. Still, Klein has scored some solid points in his scorched-earth campaign against Firpo vis a vis the Juan Ferrer case.
Maggie Fleming, with her massive campaign war chest and scrolls and scrolls of high-profile endorsements, is the clear front-runner, now and come November, but the anti-Gallegos vote is still split two and a half ways. She'll probably come out on top tomorrow, which would be the equivalent of a massive lead heading into November.
Fleming: 38 percent
Firpo: 35 percent
Dollison: 17 percent
Klein: 10 percent
###
PREVIOUSLY