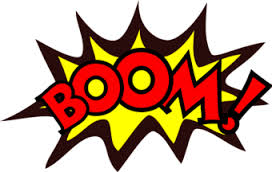 Reports are flooding into the Outpost about a rare afternoon mystery boom that just boomed up a wide swath of Humboldt Bay. We have shell-shocked reports in from Myrtletown, Cutten and Pigeon Point.
Hannah Yost says, via Facebook:
HUGE boom just now! I'm in cutten by Murphy's
Kim Herkert, also via Facebook:
Big boom, explosion - heard it in Myrtle Town about 4pm
"Grazob," via LoCO comments:
Loud Boom with long reverb heard from Pigeon Point Road Th 6/26/14 @ 4:08 PM.
Gabe Douge, via email:
Working on my back deck & heard a huge ass explosion from what sounded to be a few miles away. But it was big! Cheers man!
Cheers to you too, but where is your back deck?
Well above our standard two-report threshold for mystery booms, and at an unusual time of day. This can't be the same kind of boom as the usual boom, can it?
Please report in. Did you hear the boom? Where were you when you heard it?