UPDATE, 4:02 p.m.: Sanchez Senior: Most Wanted in Trinity and in Northern California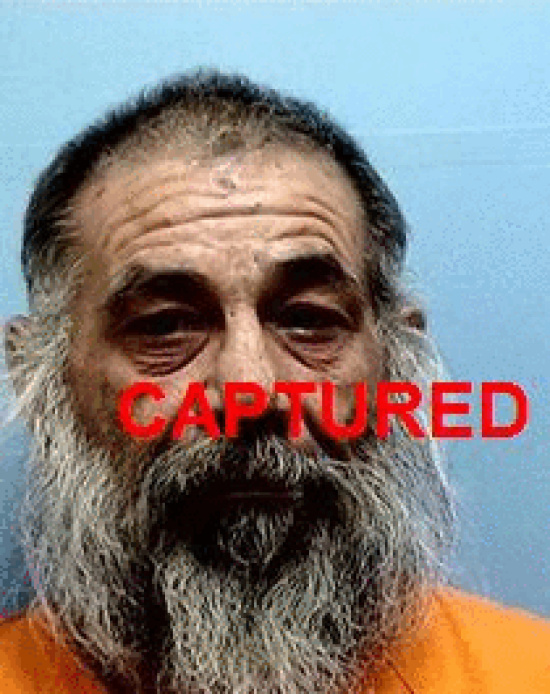 Ronald Sanchez, Sr., who was arrested on D Street in Eureka today was on both the Trinity County and the Northern California Most Wanted sites. The later site has already listed him as captured. (See photo right.)
Trinity County lists his information as follows:
Charge: Grand Theft Firearm; Buy/Receive Stolen Property; Possession of Marijuana for Sale; Transportation/Sale of Marijuana; Accessory; Felon in Possession of Firearm
Warrant Amount: $100,000
Court Case Number: 13F0019B (DA# 13DA046)
Alias: none listed
DOB: 04/11/1959
Sex: Male
Race: Hispanic
Height: 5'3"
Weight: 165
Hair: Black
Eyes: Brown
Scars/Marks/Tattoos: "Peace" tattoo, left hand; "Heart", left forearm; Right forearm, hand: see photo.
Last Known Address: Ruth, CA (southern Trinity County)
— Kym Kemp
###
UPDATE, 10:38 a.m.: US Marshal's Arrest Father of Silverio Sanchez
According to Joseph Palmer, Deputy US Marshal, his agency was working with the DEA Task Force, the California Highway Patrol and the Humboldt County Sheriff's Office to serve a search warrant for Ronald Sanchez, Sr.
The warrant, Palmer said, was served on D Street in Eureka early this morning and Silverio, Sr. was taken into custody.
Sanchez, Sr. , the father of Silverio Sanchez (See below for stories about Silverio who was on several Most Wanted lists for awhile), was arrested on multiple warrants out of Trinity County. The warrants included felon in possession of a firearm, possession of stolen property, possession with intent to distribute of a controlled substance as well as other charges.
Previously for Silverio Sanchez:
— Kym Kemp
###
UPDATE 10:27 a.m.: According to
###
Original post:Callers tip us to the fact that there are — or possibly were, until very recently — a very large gathering of police at the brick federal building in downtown Eureka.
Eureka Police Chief Andy Mills tells the Lost Coast Outpost that the US Marshals Service is conducting a large operation in the county today. Mills declined to provide any other details.
Did you see them massing this morning? Did you get a photo? You know what to do — news@lostcoastoutpost.com, or post it in the comments.