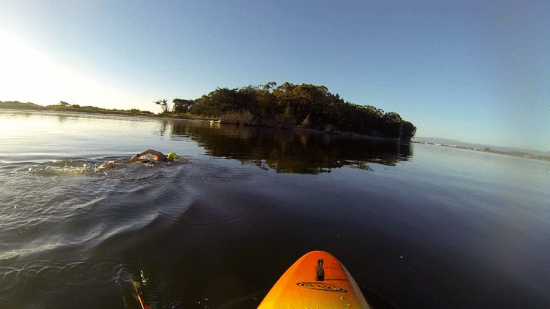 Yes, Humboldt Bay without a wetsuit! By Bill Wood.
Now that local elections are over, how about focusing all that civic-minded energy on a new challenge? Specifically, the Humboldt Bay Critter Crawl, a non-competitive open water swim to benefit local charities caring for wild and domestic animals.
Yes, people swim in Humboldt Bay. Without wetsuits. At noon today, Mike Dronkers will host Taylor Daniels and Sarah Green, Critter Crawl organizers and swimmers, on KHUM's Coastal Currents. Among the questions sure to be asked is, "How exactly do you do that?" (Station HBYC1 reports Humboldt Bay's present water temp is 52.3 degrees!)
The crawl is a "current-assisted" 4.5-mile swim from the opening of the Bay to the Woodley Island Marina via the Eureka city front and is scheduled for Sunday, July 13. Proceeds will benefit the North Coast Marine Mammal Center.
From the event's Facebook page: "As open water swimmers who love our stretch of ocean, local bay and lagoons, it seems particularly appropriate to dedicate this, our inaugural swim, to helping support the natural denizens of these waters."
Tsunami skiff update
In other news, you heard about the "tsunami skiff" that washed up at Dry Lagoon, the 24th Japanese boat that has landed on the West Coast since April 23 in the current ongoing tsunami debris pulse and likely from the Miyagi Prefecture, according to James T. Carlton, Professor of Marine Sciences at Williams College and – get ready – Lead Principal Investigator, National Science Foundation (NSF) Rapid Research: Survival, Dispersal, Genetic Characterization and Attenuation of Marine Biota on the 2011 Japanese Tsunami Marine Debris (JTMD) Field.
In an email, Carlton notes:
"Based upon our sampling of many of the previous 23 boats in the past month, it's very likely this skiff at Dry Lagoon has Japanese species on it, especially the mussel Mytilus galloprovincialis… Other boats sampled in the last few days and landing in OR and WA have had live Japanese scallops, barnacles, seastars, amphipods, clams, etc. At least two skiffs that have landed have had, amazingly, 100s of mussels aboard… Each new landing is becoming increasingly important relative to the potential for invasive species establishment."
Ocean Night, Friday!
Ocean Night features Redwood Coast Montessori School in a special Coastal Stewardship extravaganza that includes a showing of Disneynature's Oceans. (Please note that Ocean Night happens on Friday, June 6 instead of the usual first Thursday!) Full details in the Lowdown.