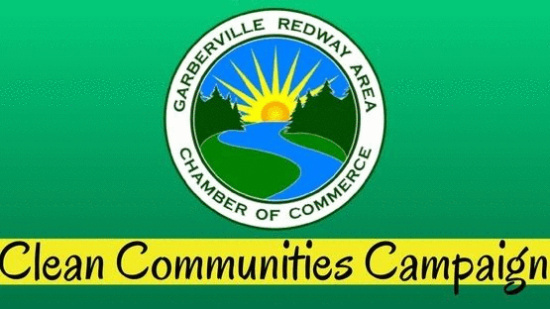 Logo at the top of a petition started by the Garberville/Redway Chamber of Commerce asking for increased law enforcement presence in their area.
Business owners and residents of Southern Humboldt are protesting a lack of law enforcement in their area. A petition posted last night by the Garberville/Redway Chamber of Commerce states, "For the past several months there has been no law enforcement coverage in Southern Humboldt County outside of normal business hours. Even during normal business hours there are a minimal number of officers in the area, usually one or two deputies, to cover our vast rural area."
Sheriff Mike Downey of the Humboldt County Sheriff's Department responded, "I know there are some issues in Southern Humboldt, just as there are countywide…. In a nutshell, we are 13 to 14 [deputy] positions down." Those positions are frozen and he is unable to rehire deputies to fill them.
In addition, he said, some officers are out on extended medical leave and two officers (Sgt. Ken Swithenbank and Deputy Bang Cao) are out on leave due to the shooting in Shelter Cove. (Though Lt. Steve Knight said that these officers should return soon.)
Because of these situations, a lot of money spent, Downey explained, is on overtime—"deputies working extra trying to fill the gaps."
Downey said that his agency's costs have "skyrocketed."
"My budget has stayed stable at $29 to $30 million," Downey said. He has a number of expenses to budget for. The Sheriff's Office includes responsibility for "animal control, the correctional facility, 235 paid employees, retirement and medical benefits, etc.," explained Downey. "For the last two or three years, we've come in over budget $100,000 to $150,000 which the Board of Supervisors has forgiven us."
Downey said recently he had to "cut overtime to zero—no more [overtime] because we can't." Otherwise, he said, his office would once again go over budget.
The impact has been felt hard in Southern Humboldt, say business owners and residents. There have been several incidents these last months that have left the community feeling vulnerable. One incident, reported earlier here on the Lost Coast Outpost, detailed a business which was burglarized in spite of the security alarm repeatedly sounding and being reported to the Sheriff's office. No deputies were available to respond.
Another worrying incident, according to a school official, left schoolchildren exposed to what could have been a dangerous situation. On Wednesday, May 28, Catherine Scott, Superintendent at Southern Humboldt Unified School District, stopped by the elementary school in Weott. The staff told her that an unknown person had parked their car on campus and taken off into the woods to the west of the school. Scott was concerned. Stories of shooters on school campuses in recent history have made administrators cautious, she pointed out.
According to Scott, she contacted the Humboldt County Sheriff's Office asking for assistance. "They called back and said that no one would be able to be there for 30 minutes at earliest."
Scott was worried and frustrated because, as she said, "A lot can happen in 30 minutes… . It wasn't like someone was on campus with a gun, but it was an odd situation."
Scott kept the kids in their classrooms and did not let them out on the playground for recess. She put bus drivers on alert in case she needed to evacuate the students. "It is a little disconcerting when you have the safety of 65 kids on your hands and no one is able to respond." Eventually, she said, the unknown individual returned. She described him as "agitated" and "odd"—"definitely not someone who should be around kids." However, the man did safely leave the school.
"We didn't make a big deal about it on the campus," Scott said. "We didn't want to worry the kids."
Scott said she doesn't blame the Sheriff's Department. "When you are trying to patrol such a big area, it can be challenging," she acknowledged. She also knows they have budget constraints. Scott felt vulnerable though. "It seems like with a stranger on campus, with all the school shootings, [something like this] should be a high priority. It certainly is in my world."
Downey acknowledges that it is difficult for the sergeant on call to always make the correct decision on which calls to answer first. "Have there been missteps? Yes, but the sergeant on call is making the best call he can based on the information he has."
The Garberville/Redway Chamber of Commerce petition claims that the reduced coverage from the Sheriff's Department has impacted not only the residents but also law enforcement. The document, obviously referencing, at least in part, the shooting of the deputy in Shelter Cove, states, "[Decreased law enforcement] creates an unsafe atmosphere for the public and those officers on duty."
The petition sees the solution to their concern as having officers in the area "24/7." Downey said that this is not possible. Because of statewide impacts, Humboldt, he said, was one of the last counties providing 24 hour coverage to every substation but, eventually, he said, he had to make cutbacks. There have been reduced services countywide. He says he has done what he could to mitigate the situation. The cities of Trinidad and Blue Lake each pay for deputies that are assigned to their area. There is a Beach Patrol that gets other funds. These officers are available in the case of an emergency like the shooting of an officer in Shelter Cove but they aren't available for general law enforcement outside the areas they are assigned to.
"This is an issue that has been brewing for a couple of years," he explained. "The state has reserves but the counties are hurting." Without more money from the state, he said, "the next step forward is prioritization. That is the Board of Supervisor's decision. They control my budget."
Downey said that he knows the Board of Supervisors is working with a limited amount of money. They have to make decisions on where the funds they get should be allotted.
Downey said people should let the Board of Supervisors know what their priorities are. "If the priority is law enforcement, then let's fund that," he said. "If the priority is better roads, then let's fund the roads."
Supervisor Estelle Fennell, whose district is the Southern Humboldt area, wrote in response to the petition, "I must stress that the Sheriff is an independently elected official and the Board of Supervisors has no power to tell him how to run his office. Our only power is in the allotment of budget dollars and we have not made any cuts in the Sheriff's budget."
She stated, "We are not in a position to increase his allotment and are currently looking into raising revenue through a tax (either sales or utility) that would be on the November Ballot. "
Downey, however, explained, even if the proposal passes, "it will be a year before we realize the revenues coming in on that."
Meanwhile, the over 150 people who have signed the petition list a series of events that make them feel vulnerable. Events, they say, which include
"…three houses out of six behind the sheriff station have been broken into"
"

My mother dialed 911 when someone was threatening to break her door down and banging on the glass… No police ever showed up!"

"My business was robbed and there was no sheriff on duty to respond to the alarm."



"…

bad behaving people have screaming and physical fights in front of my office and it scares me."
Clover Willison, a business owner believes that the "folks causing disturbances are no longer deterred by the threat of calling law enforcement as they know that it is unlikely anyone will actually respond… ." She comments on the petition that she is worried that, "if we do not regain a stronger law enforcement presence we will begin to see our locals taking matters into their own hands to handle situations rather than trusting the process and proper channels."