Scanner traffic indicates that law enforcement on both sides of the Humboldt Mendocino County line is on the lookout for a suspect that reportedly fired a shotgun at a victim around 11 a.m. near Confusion Hill. Reportedly, the suspect most likely headed south but law enforcement is alert on both sides of the border.
Below is a scoop of the scanner traffic about the incident.
UPDATE 12:55 p.m.: There are reports of large numbers of law enforcement vehicles rolling into Willits. One vehicle is described as tank-like.
UPDATE 1:15 p.m.:
The scanner for the Mendocino Coast has a banner stating, "Pursuit shots fired Fort Bragg. Suspect shot at someone earlier with shot Gun. MCSO pursuit into Ft Bragg. 11-99 officer down call."
According to the Fort Bragg Advocate, a reverse 911 call has gone out to residents near the MacKerricher State Park and the campgroud is being evacuated. "Two male suspects considered armed and very dangerous are out of their vehicle, law enforcement is in pursuit. The scene is not secure. Stay away."
These two situations currently appear to be related. We will be monitoring this story and updating as possible.
UPDATE 1:40 p.m.: According to the Mendocino Co. Sheriff's Department, Hwy 1 is being closed at Inglenook for a stretch lasting about 19 miles to Odom Lane near Fort Bragg. (See map below.)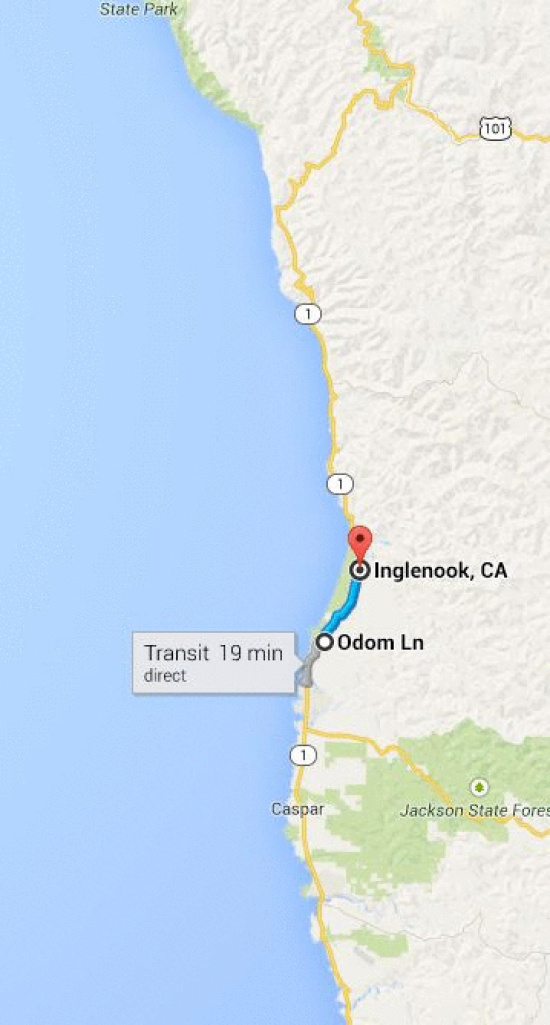 UPDATE 3:50 p.m.: The Fort Bragg Advocate is reporting, "One male subject wearing a camo vest has been 'located' and his weapon(s) has been seized. It is unclear whether there is a second subject."
They then added, "We do not know whether anyone has actually been taken into custody. Based on scanner traffic, it sounds like the search is continuing. Please continue to stay out of the area."
UPDATE 4:26 p.m.: KTVU out of the Bay Area is reporting that the Mendocino Deputy who was shot around noon today, succumbed to his injuries.
UPDATE 4:40 p.m.: Mendocino residents are sharing the following Facebook post from retired Sheriff Jim Tusco:
AT THE MENDOCINO COUNTY SHERIFF'S OFFICE: In Honor and Memory of a Fallen Mendocino County Deputy Sheriff who was shot and killed In The Line Of Duty this 19th day of March 2014 in the Cleone Area north of Fort Bragg, California, USA. We Pray as a new Angel arrives in our Heaven above.

My Heartfelt Condolences to the Family and Friends of the Fallen Drputy, and to Sheriff Tom Allman and the Men and Women of his Office. We are Family.

Sheriff Jim Tuso, Retired

Wednesday, March 19, 2014
Mendocino County Sheriff's Office
Ukiah, California, USA
UPDATE 4:47 p.m.: The Press Democrat is reporting that a reverse 911 has been put in place telling residents that, in the words of Capt. Gregg Van Patten, they "don't need to worry any more."
Sheriff Tom Allman is supposed to hold a 5 p.m. press conference. We will update with information as soon as possible.
UPDATE 5:01 p.m.: The following information was gathered from a Press Conference called by Mendocino County Sheriff Tom Allman:
At 10:34 a.m., the Mendocino County Sheriff's Office received a call from Confusion Hill. The manager of that business had noticed someone urinating near the building. He escorted the man away from the area. Soon thereafter, he noticed the man returning in a suspicious manner. The man shot at the manager with a double barreled shotgun. The manager returned fire. The suspect fled south on Hwy 101 in a black BMW. A Mendocino County Sheriff's officer pursued him out Hwy 1 at speeds of up to 100 miles per hour but eventually lost the vehicle.
When the suspect did [not] enter Fort Bragg, law enforcement began searching for him out side roads. By this time they knew that the suspect had been involved in a crime spree in Eugene, Oregon in the early hours of today. His name was Ricardo Antoino Chaney (born 9/9/81)). The crime spree involved an armed robbery using a shotgun. Chaney stole a 2006 black BMW 340 4-door and forced the owners into the trunk. Details are still emerging but the victims are believed to have been no longer in the trunk at the time of the incident at Confusion Hill.
Mendocino Co. Sheriff's Deputy Ricky Del Fiorentino was searching out Park Drive, 3.5 miles north of Fort Bragg on the west side of Hwy 101. From what law enforcement has been able to piece together, Chaney apparently ambushed the deputy at around 11:50.
"We have every indication that the assault rifle was used to murder Dept. Del Fiorentino," said Sheriff Tom Allman at a press conference this evening. Allman explained that Del Fiorentino's hood was riddled with bullet holes. The front and back windshields broken of the deputy's car by the rain of bullets that hit it.
Nearby officers from the Fort Bragg Police Department responded to the sound of gunfire. They found Chaney riffling through the deputy's car. The suspect fired at Lt. John Naulty six or seven times before Naulty was able to return fire.
The suspect is believed to have been shot in the leg and fled into the bushes where he committed suicide.
Sheriff Allman spoke of Dept. Ricky Del Fiorentino (who was born in 1965) saying he excelled in community relations and volunteered as a wrestling coach. Del Fiorentino has been a patrol deputy assigned to the North Coast since 2000.
Allman said, "My last words to Ricky were 'I wish we could clone 10 more of you." Allman paused then said that Del Fiorentino had replied, "The world is not ready for that."
May the family of the deputy find comfort in knowing he was highly regarded by his colleagues.
UPDATE 7:56 p.m.: Channel 3 News is now saying that the suspect died as the result of officer fire.
UPDATE 8:14 p.m.: The Mendocino County District Attorney's Office has published this photo of Deputy Ricky Del Fiorentino.
UPDATE 8:19 p.m.: Caltrans is reporting Hwy 1 is back open.