REMINDER: Respectfully, the World Renewal Ceremony is Not a Party.
###
Yesterday, to prepare for the World Renewal Ceremony, Wiyot men paddled an old growth redwood canoe from the city of Eureka to Indian Island (see map at the bottom.) On the day of the ceremony, a boat will be used to transport the dancers, their families, and Wiyot tribal citizens to the site where the ceremony will be held.
Traditionally, the Wiyot people held a multi-day World Renewal Ceremony on the flat marshy land next to the Samoa Bridge now called Indian or Dulawat Island. In February of 1860, when the tribe gathered to hold their sacred rites, a group of white men attacked at night killing most of those gathered there—many of them women and children. The tribe was nearly destroyed. The ceremony remained unfinished. In 1992, people began gathering on the island in remembrance of those killed there on the last Saturday of February. The tribe has since regained ownership of some of the island, cleaned up large amounts of trash and this year the World Renewal Ceremony will begin again on March 28th.
Mo Hollis, Media Director of the Seventh Generation Fund for Indigenous Peoples, was invited along to yesterday's trip and brought back these photos. He says he's "not sure how much will be released from the ceremony, if any… ." These photos allow us to glimpse in part the mix of modern and ancient worlds that the Wiyot's will be part of as perform their ceremony for the first time in over a 150 years.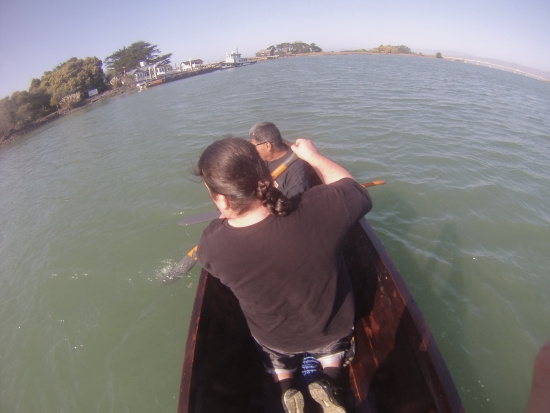 Out on the water, the winds were blowing about 25 mph yesterday, Hollis said, which made the rowing difficult.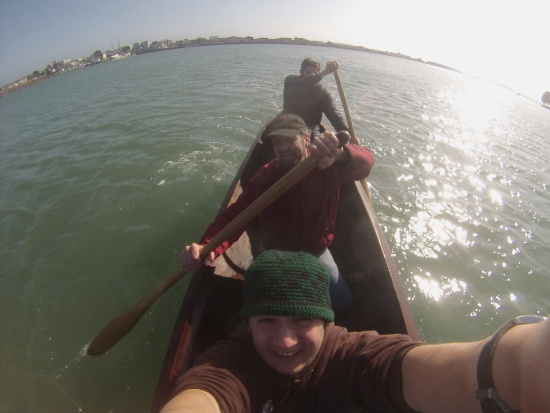 The beautiful redwood canoe used for the day was borrowed from the Yurok people. "Many of the world renewal dances include a boat dance," Hollis explained.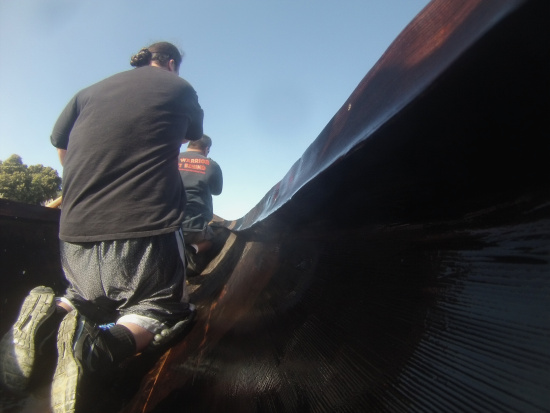 The Wiyots and Yuroks are kin tribes that have similar customs and dances.
"It took a good hour and a half to 2 hours to from Eureka under the bridge around the marina to get to the island," Hollis explained.

Landing on the home of the World Renewal Ceremony. The Ceremony will take place March 28-30 near here and other areas in the Humboldt Bay region.
"The photos tell a great story," Hollis wrote, " … of bringing something amazing back to life… Quite a feat… Historic."