Saturday, on Istikklal Caddesi, Istanbul's most famous avenue. Normally, there is some kind of demonstration. Along with the shoppers and tourists, the long avenue which leads to Taksim Square has in recent months been home to anti-government protests. But there is always something. Other days you can be sure to run into young communists handing out copies of their newspaper, or else Kurdish groups waving signs and banners, or Circasians, even gay rights representatives. Like the Arcata Plaza, Taksim Square is a platform for dissent, display and unrest.
But today, even though it's still early, is quiet. The quiet is strange, considering that important local elections are coming next week. A few blocks from Taksim, in Cihangir, a fashionable neighborhood overlooking the Bosphorous, people sit outside cafes eating brunch and reading newspapers. Steep, narrow streets, where dilapidated Ottoman houses have been partially restored to house galleries and antique shops, squares of sunlight playing with languid shadows … the narrow street with the high stone wall leading past the Italian lycee and bathhouses and back out onto Istikklal Caddesi. Here the true World dreams idly past, to the sound of the saz players, en route to appointments with destiny, with friends, with hairdressers.
There were rumours in the papers that Prime Minister Recep Tayyip Erdogan's AK Party – for whom the elections are something of a referendum of ıts 10-year rule over the country—might plan something, some random act of violence, that could be pinned on the demonstrators, tipping the balance in AK Party's favour ahead of the elections. So the demonstrators had been told by the opposition leaders to stay home. So the rumour goes.
****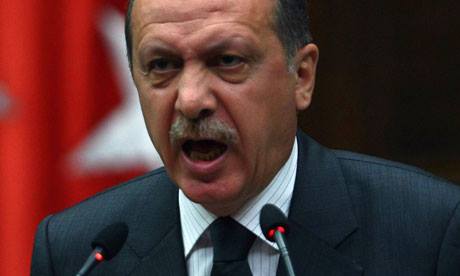 The leader of Turkey, Recep Tayyip Erdogan, strikes you first with his voice. You hear it on the airwaves on a daily basis. It is a deep, resonant voice that articulates, bullies, entreats, swears, evokes. He is always heard addressing large crowds, and they respond with rapturous cheers. He voices his disgust with the street protesters, his suspicions of a "foreign plot" out to undermine him. He articulates his vision of a united Turkey in troubled times, voicing his kinship with Turks and Kurds alike.
With his broad, flat forehead, trim moustache and stern gaze, Erdogan commands Turkey like a father figure – a father that most certainly must know best. That's a great source of his strength – his charisma and skill. But for many critics, it's also his biggest problem.
His many supporters, who include not only the poor in Central and Eastern Anatolia, but also Kurds, who welcomed a peace agreement Erdogan helped broker with the extremist PKK; not to mention hoardes of Syrian refugees, who have been given citizenship and will likely show their gratitude at the polls. He also touts Turkey's impressive economic growth over the past decade – Turkey now ranks among the G20 greatest economies, boosted by strong foreign investment, especially in the construction and energy sectors.
But to a growing number of Turks, Erdogan is seen as a threat to the country's always fragile democratic, secular institutions. He has sought many changes to the country's courts, and even the constitution. Turkey also leads the world in the number of jailed journalists. Also, many leaders of the military – which for decades was the safeguard of secularism – have been imprisoned on charges of trying to overthrow the government (a de facto charge in Turkey going back to its founding in the 1920s, when Communists like the poet Nazim Hikmet were jailed on similar charges).
Alas, it seems Erdogan, like many strongmen, does not respond well to criticism, to any suggestions that he might not know best. Protesters are dismissed as looters. Defenders of Internet free speech are called representatives of the Porn Lobby. And so on. Police crackdowns on protesters in Gezi Park last summer, as well as his reaction to allegations of corruption – hundreds of people, from the poliçe to the courts, were sacked or reassigned – have done little to discourage fears that Erdogan is playing a dangerous endgame. Just this past week, he vowed to eradicate Twitter, alleging that fake accounts were spreading lies. As in Egypt, Syria and around this troubled region, soclal media has played a key role in galvanizing people. Even in the wake of the Twittter ban, people still found a way around the ban, and the number of Tweets even increased.
The unrest in Turkey has had a noticeable affect on Turkey's economic gains. Its currency value has fallen sharply against the dollar and euro, and investors' confidence has been shaken by the corruption scandal and Internet restrictions. However, although the foreign press has reported on Turkey's troubles, their attention has been focused mainly on the Crimean situation (on the warships that have passed through the Bosphorous en route to the Black Sea) and on the search for the missing Malasian airliner. Bear in mind though that what happens at the polls here next week could have much longer-lasting implications, for the entire region, as well as Turkey's ties to the West.
"Something will come of these elections," says my girlfriend Ozge. Like many other Turks, she is tired of the unrest in the country, but also fed up with what she feels are Erdogan's dictatorial ambitions. "Whether AK Party wins again or not, something new will come. It has to. In the past it was the army that stepped in when things got out of control –"
"But they're all in prison now," I joked.
"Yes, all in prison. So now there is nothing holding it back. There has to be some kind of change this time."
Whether you like Erdogan or not, he has changed things in Turkey already, for better or worse. Like Putin in the Crimea, Erdogan seems bent on asserting Turkey's place in the world. "I don't care what the international community says," he said, in the wake of the Twitter ban. "The world will see the power of the Turkish Republic!"
Erdogan himself is not up for election, as the elections are local, but Erdogan's Turkey is. For the elections will show whether his countrymen and women believe that he still knows best.
****
Back on Istikklal Caddesi, evening has arrived. The avenue is packed, but still no demonstrations. I sit over beers and discuss the elections with two middle-aged Turkish men.
"As a foreigner, what do you think will happen?" one of the middle-aged men asked.
"I don't know," I said. "Erdogan does look strong though."
"Yes," the man said, nodding worriedly. "He does."
We watch a stream of red-and-gold shirted Galatasaray fans pass, singing pre-match fight songs. The team is playing Kayseri later. As in many countries, politics here takes a back seat to football.
James Tressler was a reporter for the Eureka Times-Standard. His latest novels, Letters from Istanbul: Vol. 1" and "Lost Coast D.A.," are available at Lulu.com. He lives in Istanbul.