GO TO THE EUREKA NEIGHBORHOOD MAP PROJECT →
Today the Lost Coast Outpost asks you to share your mental map of Eureka. We are hereby unleashing something that we call, unwieldly, "The Eureka Neighborhood Map Project."
What is it? You go there, you browse other people's maps of Eureka neighborhoods and the names and descriptions of those neighborhoods. Maybe you make a comment on those maps. Then you make your own map of the Eureka you know and love. And then you share your map with the people in your social circle and invite them to do the same.
Why? In the first place, because it's interesting and fun and useful in its own right. A couple of months ago, KHUM DJ Mike Dronkers and your Lost Coast Outpost spent a pleasant mid-day on air trying to figure out what to call the neighborhood around Safeway and St. Joe's. We settled on "Pill Hill" (which I have since rejected). Callers had their own ideas, if I recall correctly.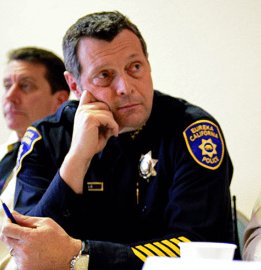 But there is another reason, too. New Eureka Police Chief Andy Mills called a media summit last month, and there laid out a problem that he was hoping we could help him with. Mills is currently looking to reorganize the EPD geographically. He will be dividing the city into two main divisions, each with its own captain. Also, he will be looking at reorganizing the beats within those division so that they line up with the communities with Eureka as Eurekans see them today.
To that end, Mills wants to know how Eurekans see their city, and he asked the media to help him with that. He said that the EPD also plans to hold community meetings to solicit ideas in person, but that whatever information the media could get from its circles could or would be immensely useful.
A few years ago the Los Angeles Times did something similar to what we're doing now. They called it "Mapping L.A.," and it now serves as the definitive guide to the Los Angeles area's neighborhoods. We'd like to get something going for Humboldt County too (starting with Eureka). We'll be happy to share whatever useful information we gather with the EPD or whoever else may want it.
Can I see an example? Sure. My own map, naturally, is the best. I've named, outlined and described the 16 neighborhoods of Eureka, as I see them. Unlike my colleagues — see here and here — I colored within the lines, the lines being the Eureka city limits. As you can see, there is no obligation to draw the whole city. You can do a neighborhood or two that you know about particularly — just the one you live in, perhaps — then hit "save" and be on your way.
How? The mapmaking interface is at this link. [EDIT: Mapmaking is now closed.] Hit the question mark button for a graphically unappealing slideshow that will walk you through the map-drawing process. It's not that difficult.
Warning: Older browsers will probably be unable to handle the mapmaking program. And you can forget about doing it on your phone. Can you do it on an iPad? I dunno. You tell me.
Any other problems? Leave a comment under this post and I'll see what I can do.
What next? Let's do the whole county! But let's start with Eureka and environs, if you don't mind. And let's try to be a little bit serious about the project, here, mmmkay, kids? We're trying to gather useful information.
Get going!