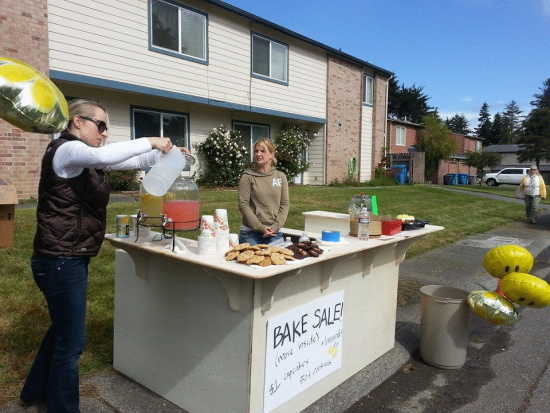 Underneath the $1 cupcakes and the 50¢ cookies was a bake sale stand that took a lot of work and a money to make. [Photos provided by the preschool families.]
UPDATE 9:20 a.m.: The stand has been found! Another "Coastie" had it and it will be returned.
# # #
Original post: At bake sales for small schools, it is not just the cookies that are homemade with love. Often all the supporting structure was created by a tired dad or mom in the little "free" time they have. That's the case with the stand pictured here which built for a fundraiser to support a preschool. Yesterday, this handsome stand left at 1558 Coast Guard Street in Eureka after a fundraiser was taken sometime between 3 and 4 p.m. Although there was a sign left that said, "Not for Sale," there were some nearby free boxes. The taker could have made a mistake.
However, explained Cat Bunz when she wrote the LoCO asking for our readers assistance, "The school planned to use it for years."
Got an idea what happened to it? Please help the folk get it back
Contact Sarah at soda1680@yahoo.com with any information about the stand.