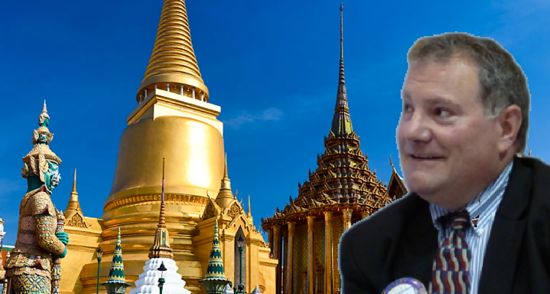 My daughter, Molly, has been living in Bangkok, Thailand, since last August on Rotary Exchange. She wanted us to come out to visit and since I will probably never get to Thailand again with my own personal guide who speaks fluent English and she is returning in early June, I had to take her up on the offer.
After driving six hours to my South San Francisco hotel for the park, fly & stay, I had a 14 hour flight to Taiwan, a 1½ hour layover before another 4 hour flight to Bangkok, Thailand. I literally lost a Friday with the time zone changes and the eighteen hours of flying time. Gonna have to call Marty McFly and Doc and inquire about the time-space continuum.
Molly greeted me at the Bangkok airport with Koy, her Rotary host mom. The first thing Molly said was, "You need to change out of your clothes (slacks, long-sleeved shirt, blazer and shoes). It's hot here!" Wise advice. Typically Bangkok weather is upper 90s to low 100s with intense humidity. All you do is sweat all day long. For foreigners visiting Thailand, the weather in April/May (when I traveled) can be an obstacle. You learn to rise early and get an early start on the day to avoid the heat. You go to bed early from being exhausted from walking miles in the heat. You hydrate constantly throughout the day and strangely one doesn't urinate much because all you do is sweat all day long.
Thailand is referred to as "the land of smiles" and the Thai family Molly is living with are wonderful people. The thing about the Thai people is they're really big on family. Every morning I woke up I never knew if there were five or ten relatives that slept over the previous night. Between aunts and uncles, grandparents and cousins, they all socialize, eat, drink and sleep together. Molly gave me her room to sleep as she slept with two other of the grandmas in a small bedroom. When one marries in Thailand, you also marry their families, as in you now acquire your spouse's siblings, aunts, uncles and grandparents as well.
We started my Bangkok experience off at the Chatuchak Weekend Market. It is the largest open air market in Thailand with over 15,000 vendors and averages over 200,000 visitors each Saturday and Sunday. The typical vendor stall is the size of a small bathroom or bedroom selling clothing, leather goods, handicrafts, trinkets, religious artifacts (mainly Buddhas), food or beverages. Think of a small Many Hands Gallery in Old Town times fifteen thousand.
The next day we went to the Amphawa floating market, known as the Venice of Asia. Picture an L.A. freeway traffic jam of small boats, the size of large canoes, floating around a canal where the vendors paddle between the boats selling their food and goods, while many vendors have their stalls on each side of the canal. There is a morning market and a short distance away, an afternoon market. It took a while to grasp that a restaurant is inside a small boat, which has contains a gas stove along with fish, pork, chicken, veggies and noodles on ice to cook fresh for each order.
We spent a lot of time at Khao San Road, the international hostel district. It's called "the shortest road to everywhere" as every nationality and language around the globe can be heard here.
Thailand has over 40,000 Buddhist temples ("wat"). Everywhere you travel you will encounter a Buddhist temple from the major cities to the outlining rural areas. Buddhist shrines are also common on many rooftops and one's front yard.
There are food/beverage vendors every few blocks throughout Bangkok. From early morning till late at night there are vendors selling fresh fruits (mango, papaya, watermelon and pomegranates), fresh squeezed fruit juices, freshly cooked meats and fish with rice and noodles on the streets, all for about $1 US. Many tourist come to Thailand for the food as it is fresh, spicy and delicious.
Mopeds or scooters make up about one-third of the vehicles on the road at any given time. They zip up both sides of the roads, streets or sidewalks, go between and around the cars like a swarm of insects, but always moving forward no matter how bad the traffic is at any given time. Only a one-third of the riders wear helmets and entire families ride on one scooter. I've seen a man, woman behind him carry a baby in her arms and a young child sitting behind the mom with none of them wearing a helmet. This is more common than one would think.
Also I've seen pick-up trucks with metal cages surrounding the truck bed, loaded with a dozen men standing in the back while driving on the freeways. Just not something you'd see in California.
One has numerous choices with transportation. In my week there we took the subway, BTS (Bangkok Transit System, AKA: the "Skytrain"), taxis, tuk-tuks (motorized three-wheeled rickshaws), water taxis, and the bus. You pay additional for an air conditioned bus versus one with fans.
Toilets are always an issue as the vast majority of public toilets are either a hole in the ground (not kidding) or a toilet with no pedestal, nor seat, sitting flush with the ground. The exceptions are most modern homes, malls and restaurants. There is rarely toilet paper, but rather a water spray (don't ask). This is one of the reasons that many people go the humongous air-conditioned malls to use the public toilets that are Americanized, have toilet paper and actually flush.
We visited Molly's former school she attended while living in Bangkok. This was a cultural experience for her as all students from elementary to university level must wear uniforms. Every morning began with a school-wide assembly, where the Thailand national anthem is played promptly at 8:00 a.m., followed by the headmaster and other teachers speaking loudly through a microphone system to the students sitting in the heat for 20 minutes. Like certain people in America (and every country for that matter), many Thai leaders like to hear themselves speak.
If anyone ever says that Humboldt County has "sprawl", after picking yourself off the floor from laughing your ass off ask them, "Do you mean there are now five cows in this pasture instead of four?" If you want to see sprawl, head to downtown Bangkok. In a country of 65 million people, 12 million live in Bangkok. As far as your eyes can see there are cranes building new high-rise apartments, condominiums, hotels and office buildings for the people that live in and around Bangkok.
You will see more homeless and people begging on the streets in one day in Eureka than in a week in Thailand. I know they must have homeless people among the millions living in Bangkok, however they "move them along" and are not seen.
Thailand has lèse majesté law, which means whoever defames, insults or threatens the King, Queen, or the heir-apparent shall be punished with imprisonment of three to fifteen years. They take this very seriously and one can imprisoned for over a decade for simply stating a thought out loud or by written words. The anonymous blog trolls in the United States would not appreciate this.
Thailand has had protests off and on for over four years now. Currently they have their own form of "Occupy" with tens of thousands of protesters camped out for months now at Lumphini Park. Unlike the U.S. Occupy moment, which had no leaders and no goals and ultimately became public camping for the disenfranchised homeless and anarchists, the Thai Occupy movement has leaders and goals. Anytime you can get millions of people to show up for a protest, you've got my attention. Unfortunately, these protests turned violent with beatings, shootings, bombings and Molotov cocktails as over 20 people on both sides (government and protesters) have died since this latest protest began in early 2014. Personally, I'm more of a Mahatma Gandhi fan of non-violent civil disobedience.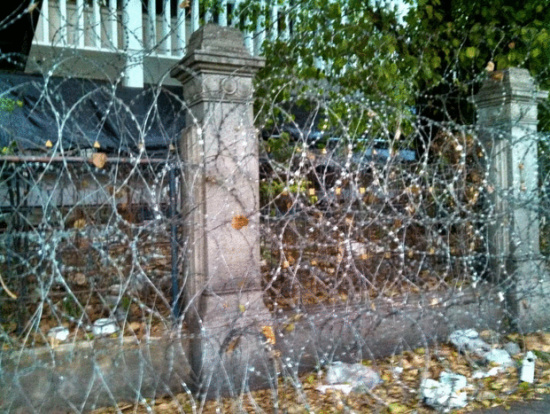 A government building surrounded by quadruple canopy of razor wire.
Just today, the Thai Constitutional Court ordered Prime Minister Yingluck Shinawatra removed from office. This would be the equivalent of the U.S. Supreme Court removing the President of the United States. Big stuff and we'll be reading more about the political unrest in Thailand over the next few weeks.
Until virtual reality becomes as common as international Skyping on one's cell phone, I'd recommend watching this Youtube clip to get a better understanding of the beauty of Thailand: