"This is not a Trim Scene problem; it is a community problem," stated Kellie Dodds, the store's general manager, about last weekend's burglary of her business near Redway. When a security alarm went off a little after 10 p.m. on Saturday, May 10, at Trim Scene Solutions, she says, there were no Humboldt County Sheriff deputies available to respond to the situation. For three hours, first one suspect and then a second, who joined him later, took their time stealing items from her business. Law enforcement, she said, was unable to respond to the alarm and discover the burglary while it was in progress.
Lt. Wayne Hanson of the Humboldt County Sheriff's Office, though unable to speak to the specific situation, explained that his agency is severely understaffed. Two officers, Sgt. Ken Swithenbank and Deputy Bang Cao are out on leave while the investigation into the shooting of Deputy Cao continues. Several officers are out on long term medical leave, he added. And, he said, because of funding issues, there are 16 frozen deputy positions. Because of the monetary situation at the County level, the Sheriff's Office doesn't have the money to hire people to fill some vacated positions, Hanson pointed out.
In addition, he says, two deputies must be sent on certain types of calls in progress in order to provide for the officer's safety.
"Staffing levels are at critical mass," Hanson stated. "Sometimes there are only six deputies on at night to cover over two million acres." The Sheriff's Office provides service to much of the county's 4000 plus square miles.
Dodds worries that what happened at Trim Scene Solutions in the Meadows Business Park might become a more common situation now that there are so few deputies available in Southern Humboldt and in other rural areas. She said that on Saturday evening around 10:15 p.m., her store's surveillance video shows that a burglar began attempting to break into her business. She said the man gained access in about 15 minutes which set off an alarm.
Dodds said the sound made the man "scamper" off. She said that according to surveillance tapes he ran up towards the freeway and hid.
Meanwhile, Security Lock and Alarm in Eureka (Trim Scene Solutions' security company) received notice of the alarm and attempted to locate the owner and the manager. In an unusual set of circumstances, both were out of town. The company, she explained, then called the Humboldt County Sheriff's Office to respond to the scene. Dispatch eventually informed the security company that they had no officers to send to check out whether the alarm was real or false.
The suspect waited awhile, then returned to the business and began choosing items to take.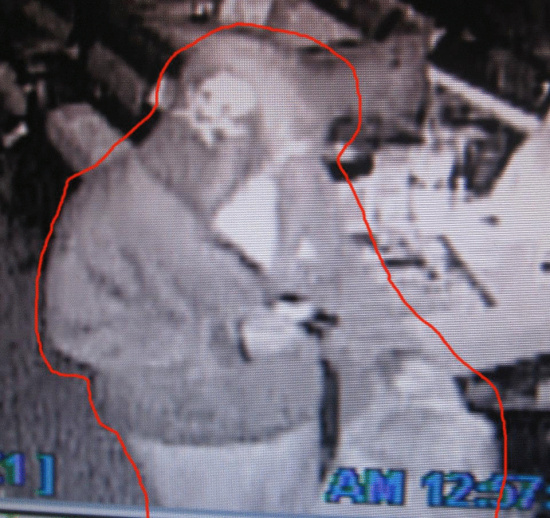 The first suspect who broke in was wearing a distinctive skull and crossbones hoodie.
"He was overwhelmed with the awesomeness of this," Dodds said and laughed ruefully as she explained how the man took his time choosing what items to take. For three hours the burglary continued.
While the suspect searched for the right items, he kept making calls. Several times as he did this, Dodds said, the alarm went off and the suspect rushed away from the building. When no one came, he returned to take more items. Eventually, another man showed up wearing slippers and carrying duffle bags. Dodds believes the man must gotten out of bed and hurried over to help his buddy in response to his call. "They shopped," she said. "They just shopped."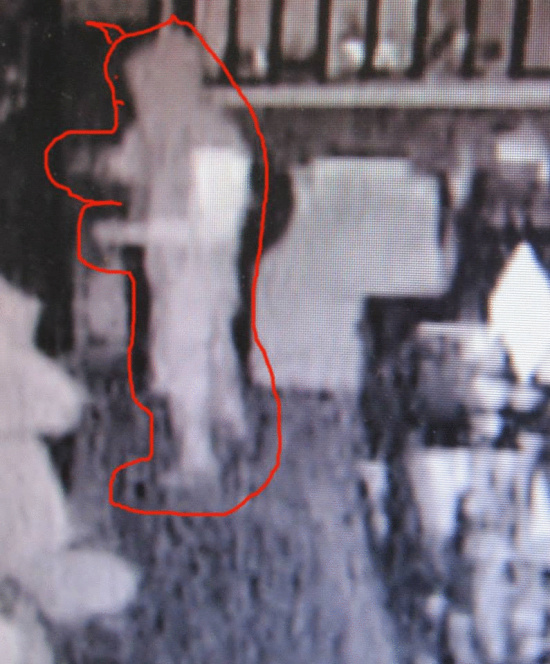 A second suspect came to join the first one at Trim Scene Solutions.
According to Dodds, who watched the surveillance tapes, the two didn't take valuable things like the large machines or other extremely expensive items. They took smaller products like rolling papers and smoking pipes. In all, about $3500 worth of merchandise was looted by the subjects.
The two didn't wear gloves, she said, so officers who responded to the business the next day were able to dust for fingerprints. The officers who came to Trim Scene Solutions, she said were "very kind and very thorough, very respectful. We really got that it mattered to them."
Dodds, who explained that her business is adding even more protection now, thinks that businesses in Southern Humboldt need to be aware of how vulnerable they can be. She stated, " This is a wake up call for all of us… . If it can happen to us, it can happen to anybody."
Furthermore, Dodds said that the business owners in the area have been talking. "We want to be part of the solution," she said. "We want to help the county help us be protected."
Lt. Hanson said, because of funding, the Sheriff's Office is being forced to make decisions they don't like to make. Right now, he said, sometimes, they are going to have to prioritize which calls they respond to. "Nobody is happy about it," he pointed out.
Anyone who thinks they have information about the burglary at Trim Scene Solutions should contact the Humboldt County Sheriff's Office at (707) 445-7251 at the Sheriff's crime tip-line at (707) 268-2539.
Anyone with concerns about the Humboldt County Sheriff's staffing situation, Lt. Hanson said, should contact their county supervisor.