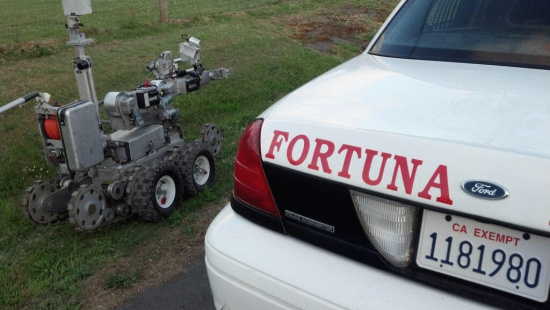 UPDATE 9:50 p.m.:
Fortuna Police Department Press Release:
On May 16, 2014 at approximately 5:42 PM, a citizen came to the Fortuna Police Department and reported that his son had found a grenade while playing in the woods near his residence in the 400 Block of Penny Lane in Fortuna, CA. Officers from the Fortuna Police responded to the address and located the grenade in the back of an old truck. The Humboldt County Sheriff's Bomb Squad was requested to dispose of the grenade.

When the Bomb Squad arrived on scene, they used their robot to remove the grenade from the bed of the truck and move it to a safe location in a field nearby and detonated the grenade rendering it safe.

"I'm just glad that the grenade didn't detonate while the juvenile or his father had possession of the grenade" said Sergeant Jason Kadle.

The Fortuna Police Department would like to remind the public that if you locate a suspected explosive device not to pick up or handle the item. Leave it in place and contact your local Police or Sheriff's Office so that it can be disposed of properly.
###
The Fortuna Police Department and the Sheriff's Office's bomb squad are currently responding to a possible explosive device that was found near Hillside Drive, in the northern part of town. As shown above, the county's bomb-bot has been deployed.
Fortuna Police are promising more information soon.
Going on now… In the northern portion of town, Officers are on scene with a possible explosive device. County… http://t.co/G5GMUJXTVz

— Fortuna Police (@FortunaPolice) May 17, 2014