UPDATE 3:03PM - Chromeo responds. Your move, Guy Fieri.
Hilarious. @GuyFieri needs to see this. http://t.co/1NOpl5ImB5

— FÜÑK £ØRDZ (@Chromeo) May 23, 2014
####
Canadian funk lords Chromeo appreciate vintage turntables, French literature, and Ferndale-bred superstar Guy Fieri.
Huh?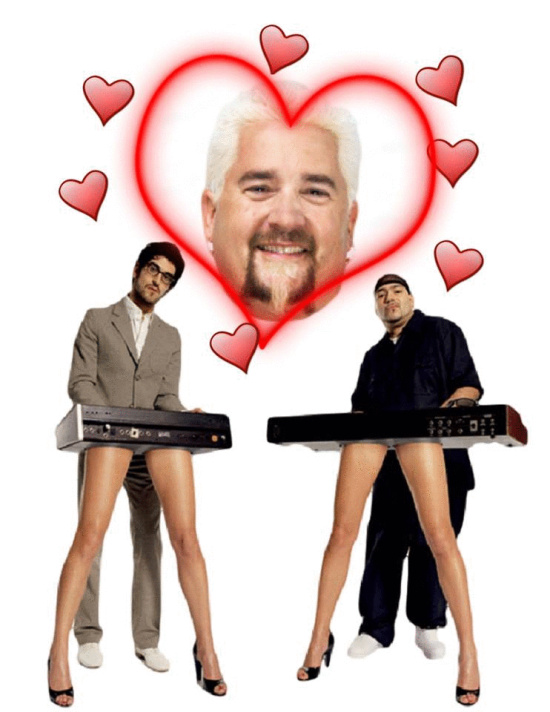 In a recent interview with Stereogum, Chromeo's P-Thugg lovingly deconstructs the Food Network's legendary host.
The entire piece was the keyboardist talking about Ferndale High's most famous alum and nothing else. They watch his show. They go to the diners he's highlighted. They call him a "style icon."
No snark, just genuine adoration:
P-THUGG: I love to see how he gets people to like him. I actually really respect his hosting skills. He really deserves a show.
STEREOGUM: Wow! So you're really on his side. Do you feel like he gets a bad rap?
P-THUGG: He goes in against all odds, not looking like a highly graded chef. And he wins them over, he knows the technique and he's probably a really decent chef himself. I think he's misunderstood, like us.
STEREOGUM: Do you relate to him as a performer?
P-THUGG: Haha absolutely. We also had to win people over for YEARS. Like, "look at these 2 dudes making ironic '80s black music, can't be serious, they're on Vice records." We've had to convince people too, same with Guy.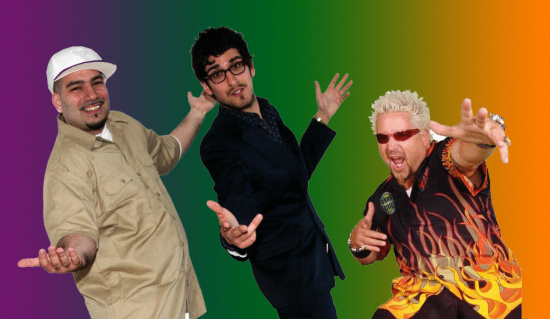 So with Chromeo giving such a favorable review, KHUM superfriend @rockhousejones wonders:
How great would it be for Guy Fieri to return the review?
Would Guy Fieri review the new Chromeo album "White Women"?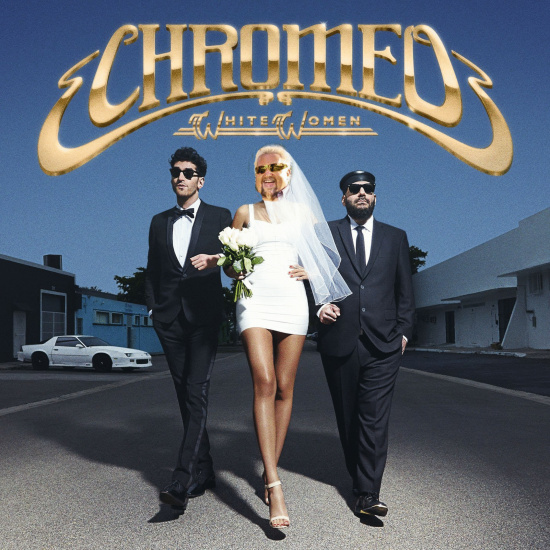 Just imagine the majesty Guy Fieri rolling down main street here in Ferndale, blasting "Jealous" from his hot rod.
What would he think? Would he want more talkbox? Have Dave-1's lyrics improved since "Business Casual?" Are the the lyrics in "Over Your Shoulder" empowering or objectifying? (A: empowering).
What if Guy Fieri had a really nuanced understanding of '80s-style electro funk?
Review this album, Guy Fieri. We'll make it easy for you with this link. Complete the Chromo-Fieri bromance! Do it for your hometown!
And we're calling on our hometown homies who know Guy Fieri to reach out to him.
He's reputed to be a good sport and a music lover, so email/Tweet/Facebook him. A lot. Make it happen.
#ChromeoFieri
[Graphics: Andrew Goff, Catherine Fredriks, yours truly]