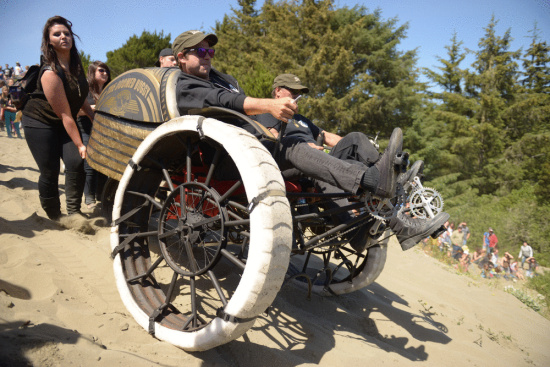 If you've ever made the trek out into the Samoa dunes to watch sculptures descend down Dead Man's Drop during the Kinetic Sculpture Race, you know that, for the most part, racers play it safe, generally inching down the sandy incline.
The Doomed Buggy did not do that Saturday. The two man craft, piloted by Lucas Thornton and Duane Flatmo, crashed gloriously, flipping end over end. Visual evidence of the carnage has been provided to the LoCO courtesy of ace Humboldt photog Mark McKenna (below, see more of McKenna's day's work here). It will also live on in crappy cell phone video immortality courtesy of a friend of Duane's (even more below).
Maybe the walk out to Dead Man's is worth the mosquito bites after all.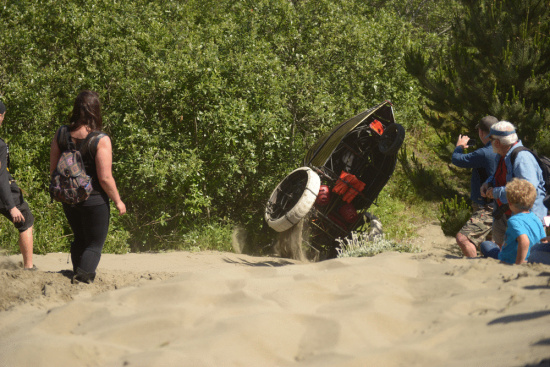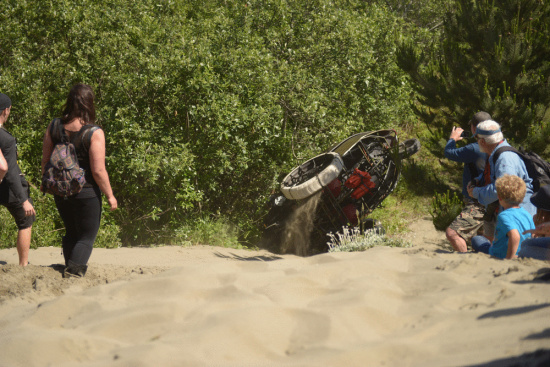 Your Lost Coast Outpost caught up with Flatmo at the Day One afterparty at Halverson Park where he was kind enough to take us through the anatomy of a Dead Man's Drop kersplat.
Humboldt is glad Thornton and Flatmo are alive men and not dead men. Good luck tomorrow, boys.