UPDATE 8:18 p.m.: The outage map is no longer showing any issues in Eureka and multiple customers are reporting power back on.
UPDATE 7:39 p.m.: A PG&E spokesperson said that 2124 customers are currently without power. She said that crews are on site. There is a wire down but they still don't know the cause. She has promised to call back as soon as they have a better understanding of the situation.
###
Original post:Power is out in a large area of Eureka. According to the PG&E Outage Map, power went out at 6:58 p.m. and is not expected to resume until around 10:15 p.m. The map indicates that between 500 and 4999 customers are without electricity. The cause is not yet known.
We have a call into PG&E and will update as soon as possible.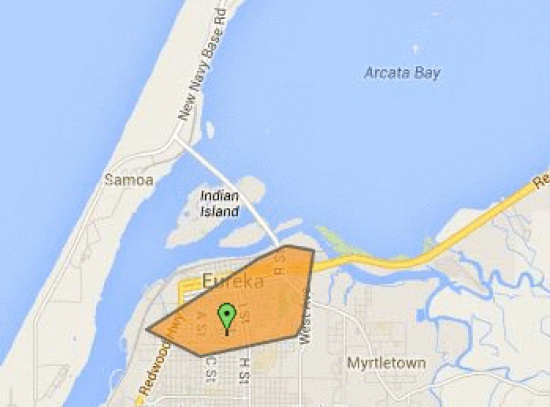 Yellow area is without power. [Snipped from the PG&E Outage Map.]