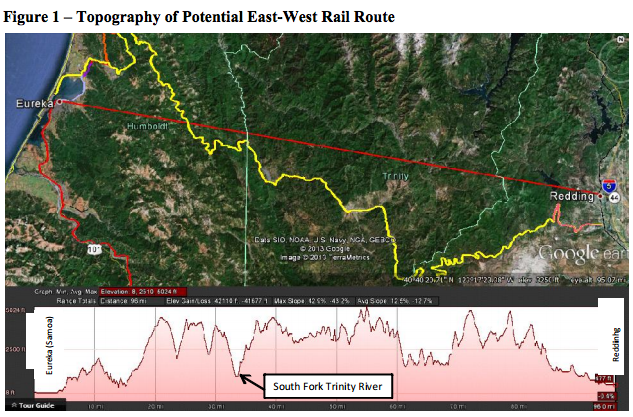 Image source.
Members of the UpState RailConnect Committee held a lunch meeting this afternoon at the Samoa Cookhouse, with former Harbor District CEO David Hull delivering an update on efforts to see a new railroad built between Humboldt Bay and the national rail system in the Central Valley.
Over the past two-plus years the group has made more than 30 presentations across the north state, accumulated more than 50 letters of support and helped establish the nonprofit Land Bridge Alliance. What's next?
"What the Upstate RailConnect Committee is looking at in 2014 is really finding the money," Hull said — "finding the money for the feasibility study itself."
To that end, the group recently worked with Trinity County to apply for $345,000 in federal TIGER grant transportation funds. Hull and his fellow rail advocates hope that this or another source of money will finance a feasibility study, and Hull said the Upstate RailConnect Committee recently adopted a scope of work for that potential study and sent out a request for proposals.
Hull said the scope of work for the study does not include a financial feasibility component or a market study.
"A market study will generally look at something that's happening in the next couple of years, and of course something of this scale and magnitude isn't going to be done in the next couple of years," Hull said. "Shipping trends change; commodities change. If we spend a bundle of money doing a market study and it ends up saying, 'Yeah, today in 2014 or '15, shipping just wouldn't make a lot of sense,' well, it's not going to be built in 2014 or '15. So that's going to be a useless economic snapshot of information."
Given this commitment to timely info, we asked Hull why the TIGER grant application includes data from an oft-disputed, 18-year-old study (the Quigley report) that offered rosy projections for Humboldt Bay's economic potential.
"'Cause it's the best that there is," Hull responded. The Harbor District itself has long since discarded the report in favor of more current analyses, but Hull insisted that the Quigley report remains the best and most thorough economic model available. "Just because it's 20 years old doesn't mean it wasn't true, or isn't true," he said.
While the train boosters have accumulated many letters of support, regional governments and business interests have been reluctant to commit any money of their own. Meanwhile, other community members and officials, including current Harbor District CEO Jack Crider, have suggested that money — especially public money — would be better spent on more achievable goals, such as a public dock in Humboldt Bay.
Skepticism of the east-west rail project's potential increased last year after the Harbor District released a pre-feasibility study that estimated a construction cost in excess of a billion dollars. It also placed annual maintenance costs at $18-$20 million and suggested that Humboldt Bay would likely need a deeper navigation channel. In short, the report concluded that building an east-west rail line would be both expensive and risky.
But rail advocates still see the east-west rail as a no-brainer. Monty Provolt, a regular public participant, asked Hull why anyone would oppose this feasibility study. Hull's answer: They hate progress.
"There's people that don't want to see any growth out here on the coast," he explained. "There's people that are happy with the status quo of what we've got in the community here, as far as the social and environmental and economic conditions. And I think the RailConnect Committee folks think we can do better than that."
Your Outpost correspondent asked Hull about a list of "missed opportunities" in the TIGER grant application, including a claim the lack of a rail connection to Humboldt Bay caused the local community to lose out on a valuable contract to export iron ore to Asia.
Hull said the contract was worth $16 million per year, and it wound up going to the Port of Stockton.
"Would we have got that [contract] if we had a rail connection here? Well, we don't know," Hull acknowledged. "But we absolutely know that we're not going to get it if we don't have a rail. And we didn't."
Mark Tollini, the senior deputy port director for the Port of Stockton, confirmed that iron ore was being shipped out of Stockton for about 12 months, but the company moved its contract to Long Beach roughly a year ago in response to more competitive rail rates.
"The fact of the matter is we probably made something on the order of three or four million" during the year-long duration of the contract, Tollini said. Asked about the $16 million figure cited in the federal grant application Tollini said, "I'm not sure what kind of calculus they were using."
Regardless, Hull believes that a more thorough feasibility study is needed, both to answer the many questions about the east-west rail idea and to grease the wheels, so to speak, for potential investors. The Harbor District's study from last year, which cost about $20,000 and found the rail plan risky, was akin to taking a 300,000-foot view of the issue, Hull said. A $345,000 study would zoom in.
"What we're proposing," Hull said, "is really a 10,000-foot view."