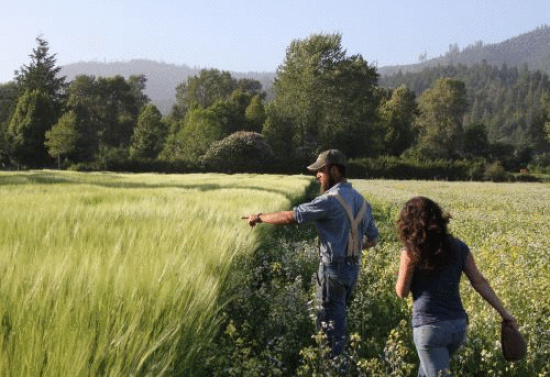 [Photos from the Shakefork Facebook page]
UPDATE 5:32 p.m.: Check out the Featured Comment below. Paypal promises that a reward for donating could be pot… . As George Takei would say, "Ohhh, myyyy!"
###Original post below###
From craft beers to artisan cheeses, Humboldt is known for the culinary delights it creates. One of the more unusual food producers in the area is Shakefork Community Farm. Whether folks hope to survive a possible zombie apocalypse, dream of achieving a simpler life in harmony with the flow of nature or simply want schoolchildren to understand the day to day life of our ancestors, the farm located near Carlotta offers old fashioned charm mixed with a strong dose of reality.
This 85 acre farm alongside the Van Duzen River grows vegetables and grain as well as provides pasture based meats and eggs for local farmers' markets and Community Supported Agriculture (people buy shares in the food produced on the land and, in return, get boxes full of what the farmers harvest.)
For the last three years the Shakeforth Community Farm has been learning how to raise and use draft animals in their farm work. Recently, Tex and Joseph, the two oxen, have begun plowing, moving animal feed, and digging up potatoes as well as other farm tasks.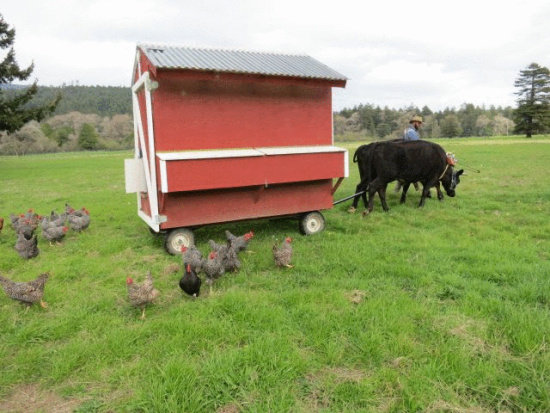 The oxen move the chicken house (the Eggmobile) from spot to spot.
"The slow and steady strength of oxen is a perfect match to those garden tasks requiring patience and a slow walking pace, such as cultivating, hilling corn and potatoes, and making beds," wrote the farm owners, Kevin and Melanie Cunningham .
Now Shakefork is seeking to add a new item. "The missing link connecting our oxen team to garden work is a solid, well-built tool," says a fundraising page for the farm. (See here for the Mendocino made tool.) The farm is offering a variety of rewards including oxen farmed vegetables for donating to their efforts to purchase the tool. (Go here if you are interested in learning more about the fundraiser.)
Looking for a short educational trip for the kids? Or for yourself? Shakefork is also offering a Spring Farm Tour on May 18th from 2 p.m. to 4 p.m. which will include an oxen demonstration. (Go here for more information.)