Video shows bicyclists racing through the spectacular beauty of Humboldt County. [Video from here.]
Bicyclists from young to old will pump their way around several Humboldt roads tomorrow as the Tour of the Unknown Coast takes off. Known as California's toughest century, one of the options is for riders to push through a 100 miles of beautiful countryside with multiple mountainous areas. (See map below.) However, there are easier options starting at as little as 10 miles.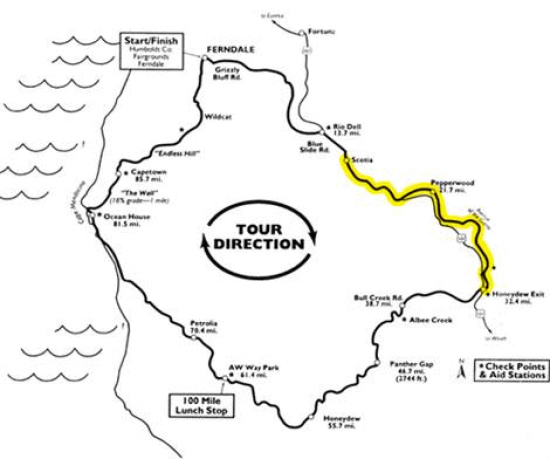 The area marked in yellow is where cyclists will race along the 101 or the Avenue. The entire tour is marked in heavy black line. [Courtesy of the Tour of the unknown Coast.]
These extra cyclists mean drivers should be on alert. The ride starts at the Humboldt County Fairgrounds, winds along Grizzly Bluff and Blue Slide Road, slides through Rio Dell and Scotia, pops out onto Hwy 101 until it reaches the Avenue of the Giants. From the Avenue, it heads west out Bull Creek Road/Mattole Road and back north to the Fairgrounds. Driving through The Avenue, Honeydew and Petrolia Saturday morning this time of year the vehicle traffic is pretty light but be prepared for cyclists in unexpected numbers.
Since the Tour of the Unknown Coast became a non-profit, the event has donated over $167,000 to nonprofits. A number of groups such as the Honeydew and Petrolia Fire Departments, the Humboldt County 4H, Humboldt State University Cycling Team, Green Wheels, Humboldt County Search & Rescue, Humboldt Amateur Radio Club, Humboldt Bicycle Commuters Association, and Arcata High School Interact contribute to making the race a success. (For instance, the Humboldt County 4H group bags the various items that each racer receives and helps signs riders in.) Then, at the end of the race, the net is divvied between the groups.
Wish you'd known about this? Whether you are wanting to go the whole 100 miles or only try the 10 mile portion, or any of the other options, you can still enter. Sign up in person this evening at the Humboldt County Fairgrounds from 5-7 or tomorrow before the race same place. Registration opens at 6 a.m. tomorrow.
Interested in viewing the racers? The County Fairgrounds is where racers begin and end. (Great place for local photographers—Please upload your photos into the comment section here to share with everyone!)
Hattip to Caltrans for the headsup about the extra bicycle traffic on the road.
The event was originally misidentified as Tour of the Lost Coast