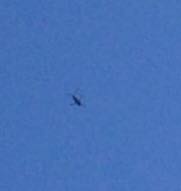 (Reader submitted photo: What does it mean?)
Here at LoCO, it never ceases to amaze us why helicopters seem to alarm the populace so. Again, today, we've received multiple inquiries as to why on earth there are "Army-ish" tandem rotor choppers zooming overhead. OK!
We dialed up Humboldt County's Airport Manager Emily Jacobs (at this point, she knows why we're calling). She reports that our visitors today were four Army CH-47 Chinooks on a north to south trajectory just stopping in to refuel.
"They don't really tell us anything," Jacobs said before noting that these craft are way too big to hunt for marijuana grows. Mystery solved.
And now, as is tradition…