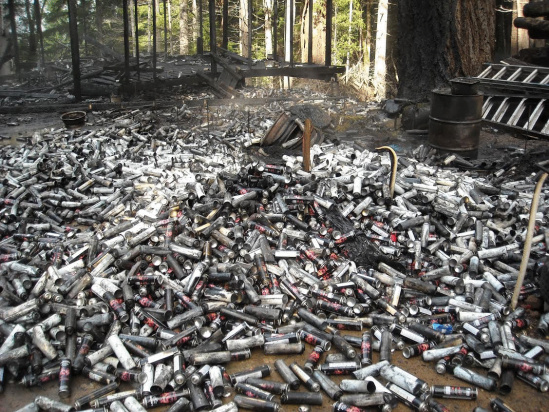 Thousands of butane canisters litter the area around a suspected drug lab in Rancho Sequoia.
Humboldt County Sheriff's Office press release:
On Friday 11/14/2014 at approximately 11:14 AM, the Humboldt County Sheriff's Office received a call from CAL Fire regarding a large fire with multiple explosions occurring in the Rancho Sequoia area in Southern Humboldt. CAL Fire believed the fire was caused by a possible drug lab. CAL Fire responded and found a small single story structure ablaze. It was unknown if the structure was used as a residence. There was no one present on scene upon CAL Fire's arrival.

Sheriff's Deputies responded and discovered evidence that Concentrated Cannabis or "Hash" was being produced using a butane extraction method. There were thousands of empty butane canister found discarded on the property along with remnants of marijuana. Three firearms were located on scene and collected. Witnesses stated that a green Jeep SUV was seen leaving the property at a high rate of speed once the explosions began. The land owner has been contacted. There are no known suspects at this time. This investigation is ongoing.

Anyone with information for the Sheriff's Office regarding this case or related criminal activity is encouraged to call the Sheriff's Office at (707)-445-7251 or the Sheriff's Office Crime Tip line at (707)268-2539.