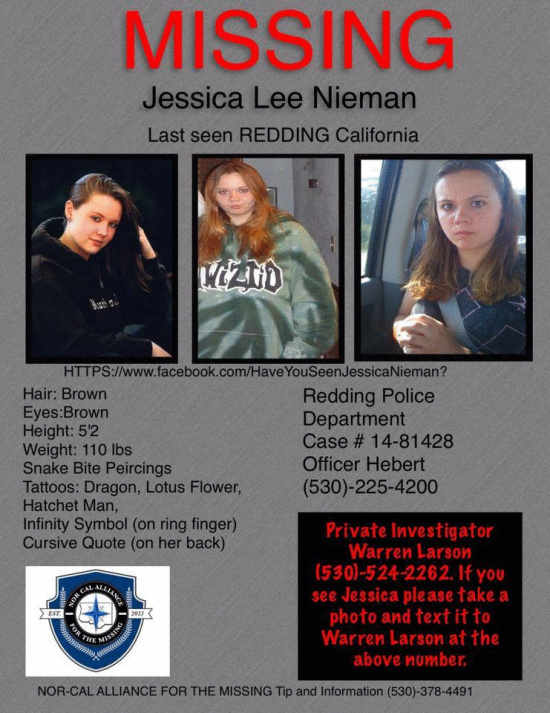 A 23-year-old woman, Jessica Nieman, is missing from the Redding area. Her family believes that she may have returned to Humboldt County where she previously lived. Nieman, who may be living a transient lifestyle, was last in contact with relatives on November 1. Anyone who has information is urged to call one of the numbers above on the poster.
Nieman's family is struggling to locate her. Like most families of missing persons, Nieman's doesn't know what they can do to find their loved one. Law enforcement is usually overwhelmed with cases and has little time to assist them. Here in Humboldt, the numbers of reports filed for missing adults is substantially higher per capita than for any other county in California. According to numbers provided by the Department of Justice (DOJ) for 2013, Humboldt County had 258 reports of missing persons per 100,000 population and San Francisco, its nearest competitor, had only 190 reports per 100,000. In total, DOJ reports that Humboldt had 347 reports for 2013—almost one per day. (Missing doesn't necessarily mean that the individual has been harmed. They may be voluntarily out of contact with family and friends.)
However, Nieman's family do have an organization to help them. The Nor Cal Alliance for the Missing works with relatives of the missing—guiding them on what steps to take and offering a sympathetic ear.
Heather Miller who volunteers with the group explained that the Nor Cal Alliance supports the families "in any way they need… ." She explained the group does everything from creating flyers and sharing information via social media to helping families follow up on tips." In Nieman's case, Miller said, "Jessica is lucky to have so many family and friends in both areas who are working together to get her information out there and want to bring her home safe! Not all families of those who are missing have that."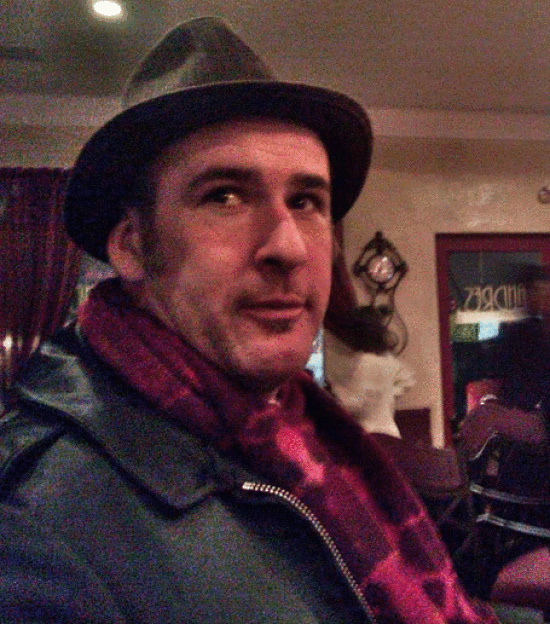 For instance, Jeff Joseph who went missing last June, has family that lives far away from the area of Humboldt (Hoopa) where Joseph is believed to have disappeared. Nor Cal Alliance for the Missing has group members that are able to assist them in putting up flyers and collecting information. Trudy Nickens, the founder of Nor Cal Alliance for the Missing, said that Miller, who volunteers as a family advocate with the organization, has been helping Joseph's family. "In Jeff's case, she has reached out to so many people," Nickens explained, "tribal police, investigators and law enforcement."
Miller also helps families by getting information out via news organizations. She provided Nieman's flyer to the Outpost and answered questions.
Nickens explained that a good part of their job at the Nor Cal Alliance for the Missing is to provide emotional support for the families of those who have gone missing. "They're in such a fragile state. They're cracking, crying, whatever."
The organization is looking for people in Humboldt County to work with families of the missing. "We are definitely looking for volunteers and family advocates in your county," she said from her office in Anderson, CA. Volunteers could work at a variety of positions, she said, including being part of a search team, doing adminstrative work, advocating for families, passing out flyers and helping with fundraisers,.
Besides Jessica Nieman and Jeff Joseph, the organization is also working to raise awareness of two other missing Humboldt residents, Danielle Bertolini and Sheila Franks.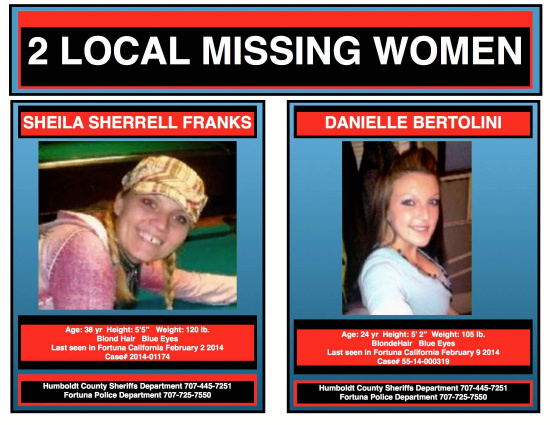 The organization also lists missing people from the greater Northern California area on its Facebook page. Anyone wishing to volunteer can contact them here or call (530) 378-4491.