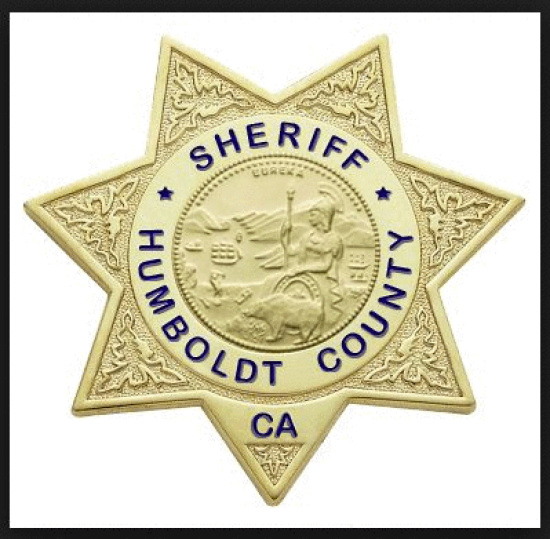 With retirements in his department and money concerns easing up now that Measure Z passed, Sheriff Mike Downey is making some big changes to the face of law enforcement—especially for Southern Humboldt and McKinleyville areas. Five officers will be promoted as of the 24th and Downey is assigning workloads differently.
Southern Humboldt will be particularly affected by Sgt. Dennis Young being promoted to Lieutenant. Young will be focused on Southern Humboldt issues. Downey says Young will try to keep his finger on the pulse of the community by working with Jesse Taylor who is being promoted to sergeant and taking the place of Sgt. Ken Swithenbank who will be working out of the main office. Downey explained that he expects Young to become a direct liaison between the Sheriff's Department and Southern Humboldt. "I expect he'll attend chamber meeting once awhile and get out to RID meetings in Shelter Cove," he said.
"Taylor," Downey said, "is very excited about taking [his new job on.] He has some innovative ideas… . He will be a visible face. He'll be down there daily. I think it is going to be a good addition to the So Humboldt area."
Swithenbank will be reassigned to patrol operations out of the main station.
McKinleyville, Blue Lake, Trinidad and the tribal communities will see a new face as Sgt. Kevin Miller promotes to lieutenant and is stationed in McKinleyville. "He will be a direct link between those communities and the sheriff… . Kevin knows the community very well."
Measure Z, Downey said will allow him to hire additional staff and positions in June. "I'm going to fill the positions as quickly as I can… . I hope to hire 6 deputy sheriffs and 2 sergeants." He also hopes to hire correctional staff and classified staff "to support the new deputy positions."
As to the consolidation of the Coroner's position with the Sheriff's Department, Downey says he doesn't expect the public to see a big change right away. The deputy coroners will stay on their job, he explained. Eventually, he said, he might assign a detective to work with the coroner's office.
"Many coroner officers out there have detectives assigned to work with them because of the complexity of the investigations. There are a lot of models that I'm looking at to best serve the public," Downey explained. The main job for the Coroner, he said, is to identify the cause of death for a person. If it becomes clear that the death is a crime, then with a detective assigned there will have been law enforcement on scene from the beginning of the case." An investigator will be able to capture more of the investigative process quickly," Downey said.
Downey explained that he is working to make communication between the public and the Sheriff's Office more open. With the retirement of Lt. Steve Knight, Downey said, "I am seriously considering civilianizing the PIO [Public Information Officer] position." He thinks it might be improve communication to have someone totally dedicated to providing information to the public. But that change, he said, could take six to eight months.
Humboldt County Sheriff's Office press release:
Sheriff Michael Downey is pleased to announce five new promotions within the Humboldt County Sheriff's Office due to recent vacancies. Effective 11-24-2014, two Sheriff's Office Sergeants, Kevin Miller and Dennis Young, will be promoted to the rank of Lieutenant. Corporals Jesse Taylor, Justin Braud and Detective Samuel Williams will be promoted to the rank of Sergeant.

Sergeant Kevin Miller has been with the Humboldt County Sheriff's Office for approximately 20 years and has worked a variety of assignments. He is currently a patrol sergeant and when he is promoted, he will be assigned to the re-established Northern Area Command. Lieutenant Miller will be responsible for all areas north of Eureka, including Orick, McKinleyville, Willow Creek, Hoopa, the Animal Shelter, the Airport and the contract cities of Blue Lake and Trinidad. Lieutenant Miller will be attending community meetings, tribal meetings and contract city meetings as the Sheriff's representative.

Sergeant Dennis Young has been with the Sheriff's Office for approximately 16 years and is currently the Sergeant in charge of the bailiffs, courthouse security and civil division. Lieutenant Young will be responsible for courthouse security, civil division, court security and all areas south of Eureka, including Loleta, Garberville, Bridgeville, Honeydew, Petrolia, Redway and Alderpoint. He will also be attending community meetings as the Sheriff's representative.

Corporal Justin (J.D.) Braud has approximately 12 years of law enforcement experience. He has worked for the Sheriff's Office as well as Eureka Police Department. Corporal Jesse Taylor has been with the Sheriff's Office approximately 12 years. Detective Samuel Williams has been with the Sheriff's Office approximately 13 years. All three newly promoted Sergeants will be assigned to the patrol division of the Sheriff's Office.