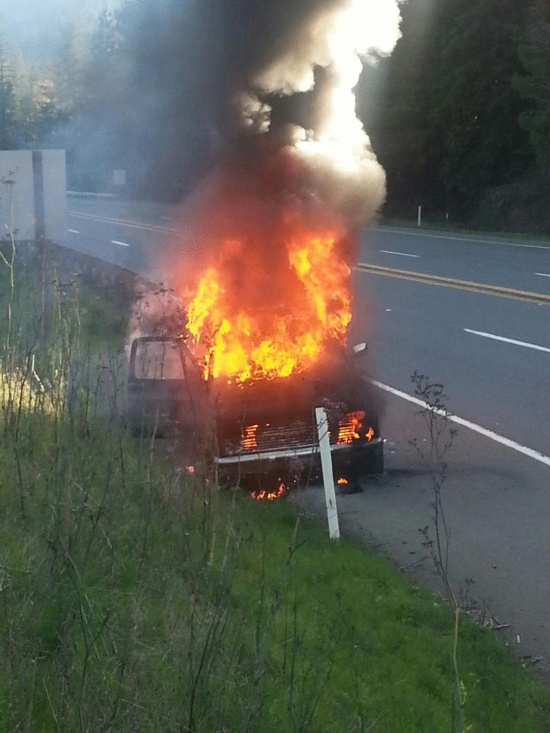 Reader Lavivian Wright sent in these pictures showing a vehicle ablaze on the shoulder of Highway 101 near Miranda.
In an email to the Outpost, Wright said she and her sisters were driving northbound around 2:35 p.m. near the Salmon Creek off-ramp when they saw "a [Chevrolet] K5 Blazer smoking and an older gentleman outside attempting to open the hood of his vehicle."
About two miles up the road they turned around and came back to see if he needed help, Wright said. "By the time we got back we could see fire coming out from underneath the vehicle."
Wright and her sisters reportedly checked with the driver of a big rig parked nearby to see if he had a fire extinguisher; he did not. But when they got back to the smoldering vehicle "a Caltrans worker and his female coworker had stopped and were attempting to put the fire out with their extinguisher," Wright said.
However, it soon became clear that the extinguisher wasn't going to extinguish the flames, so Wright and her sisters ran over to help the man retrieve his belongings from the vehicle. "The Caltrans worker busted the rear window of the vehicle with his fire extinguisher and we began to remove as many belongings as we could," Wright said. "We were able to remove his guitar, his chainsaw, a bicycle a box of tools and a few boxes of his clothes before the vehicle became fully engulfed in flames and smoke."
According to a Calfire dispatcher, the agency received a call about the fire at 2:37 p.m. Firefighters from Calfire, Miranda Volunteer Fire Department and Myers Flat Volunteer Fire Department responded, and the blaze was extinguished by 2:55.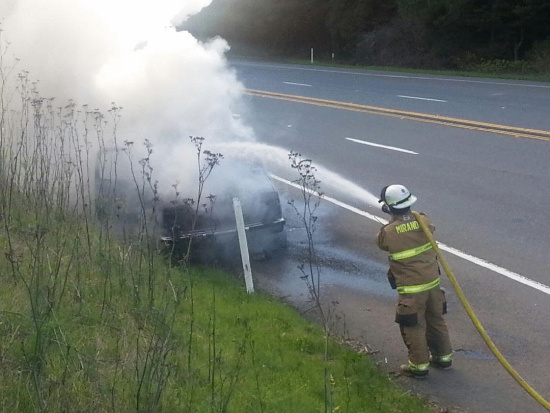 No one was injured in the incident.
"My sisters and I feel very saddened by this but also very thankful that we were in the right place at the right time to be able to help this man," Wright said. "I wish I would have gotten a Caltrans workers names for they not only stopped to help this man but also, after everything was done and over with, loaded his belongings up and gave him a ride to Fortuna, which was his final destination."