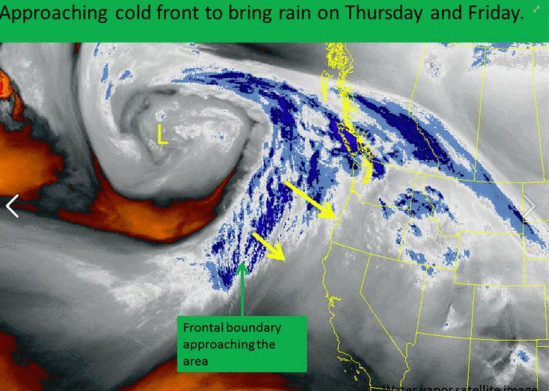 More rain coming to northern California. [Graphic from the US National Weather Service. Follow them on Facebook here.]
Are you planning on driving this weekend? Please be careful.
Rain and then more rain predicted this coming week.
According to the US National Weather Service, "Traveling may be difficult this Friday through Monday due to a series of storm systems bringing widespread rain to the region. Precipitation has the potential to be heavy at times. This may cause rockslides and localized flooding in low lying areas."
The rain is forecast to begin on Thursday in Del Norte and northern Humboldt. Then, on Friday, the rain will blow into Southern Humboldt and Mendocino County. Over an inch of rain is expected to fall Friday in Garberville with approximately 3/4's of an inch falling on Saturday and again on Sunday. Rain is predicted to fall off and on through the rest of the following week.