The forgotten ones, those who are buried in unmarked graves or discarded alongside rural roads, are sometimes found and resurrected for a ghostly moment in headlines. Then, with barely a gasp, they slide silently into cold cases for law enforcement to investigate with scraps of time torn from urgent current crimes.
Last month, the Outpost revisited the unidentified bodies found in Humboldt County this last year—updating with the latest information from the Coroner's Office. Today, we're going to look at the latest information on three bodies found in the last few years in northern Mendocino. Perhaps a little attention might shake memories loose and help the forgotten ones be reunited with their families.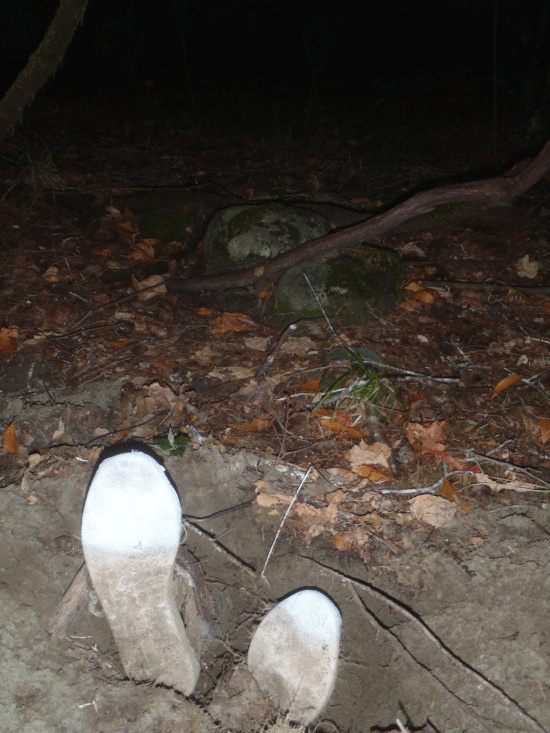 Exposed tips from a pair of Pro Wing tennis shoes led a local family to find unmarked grave just two days before Halloween in 2012.
The Skeleton in Sneakers found near Piercy in an unmarked grave on October 29, 2012:
Recap of the discovery: One tip of a sneaker had been sticking out of sandy ground near the Eel River just south of the Humboldt County line for several years. When a local man on a kayaking excursion with his young daughter a few days before Halloween discovered a second tip, he dug around the shoes only to find a sock full of foot bones. (Read more here.)
What is known about the missing person: According to a forensic examination, the body is that of a white male adult, approximately 25-45 years of age with a height between 5 feet 11 inches and 6 feet 5 inches tall.
Additional information: According to Captain Gregory Van Patten, "We were able to recover DNA. " The DNA profile from the recovered skeleton has been uploaded to CODIS —a software platform that stores DNA information. Unfortunately, the DNA of the skeleton did not match any known missing persons.
"This is surprising," Van Patten explained. Family members of most missing people in our area are asked to supply DNA so, if a body is found, DNA from it can be matched with samples taken from family members.
Van Patten pointed out that unless there is a missing person's case that had uncollected DNA or "family refused to supply it," there should be a match. According to Van Patten, in local missing person cases, "just about all" have had DNA samples collected from family members. Nationwide, though, he said, DNA isn't always gathered.
In all likelihood, the body, he explained, comes from someone out of the area or "this could be a person that never was reported missing." Or perhaps, he said, "there might not be any surviving family to get samples from." Another possibility is that no one realizes the individual is missing. Family and friends might believe the man chose to be out of touch with them.
Below are clothing and a knife found with the body. Perhaps these images might spark someone's memory.
The items found were a t-shirt, pants, shoes and a knife. All are pictured below.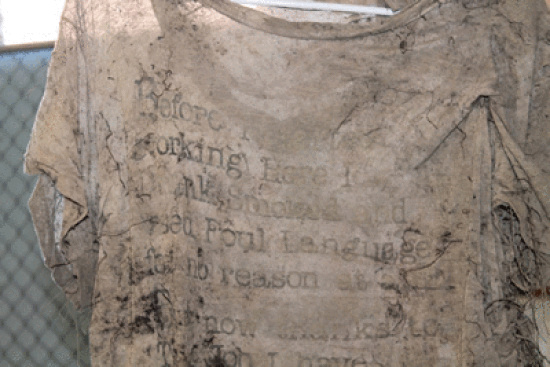 The shirt says, "Before I started working here, I drank, smoked, and used foul language for no reason at all. Thanks to this job, I now have a reason."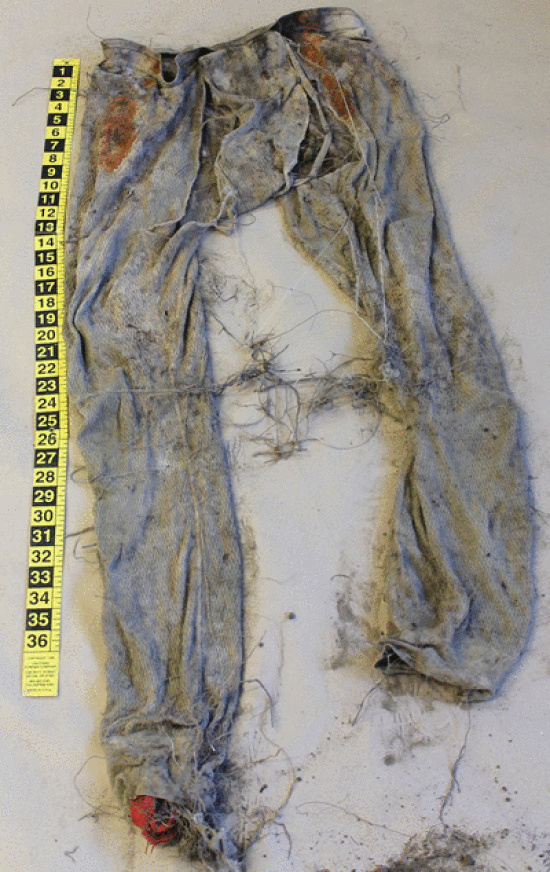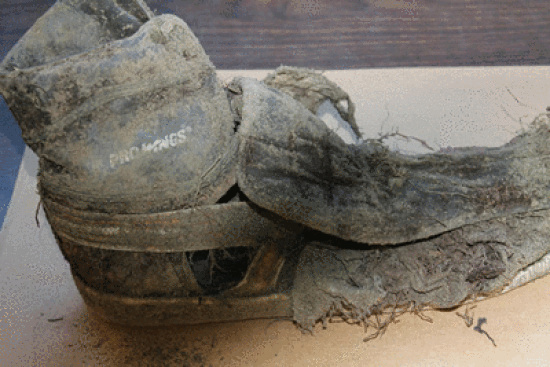 ————————————————————————
The Girl in the Refrigerator found near Willits on May 16, 2012:
Recap of the discovery: An individual found an abandoned refrigerator near the railroad tracks at the west end of Highway 162 (Covelo Road) not far from Hwy 101. Inside the refrigerator were burnt human remains. (Read more here.)
What is known about the missing person: Little is known about this individual. Law enforcement believes the body to be that of a female, possibly a small adult.
Additional information: DNA has yet to be recovered. The remains of a charm bracelet or possibly a necklace was found with the body. Below is a sketch of what law enforcement believes the item looked like.

—————————————————————————
The Camper found in Standish Hickey State Park on September 25, 2013:
Recap of the discovery: The mostly fully intact skeletal remains of an individual was found on top of the ground in the Standish Hickey State Park. Nearby was a sleeping bag. (Read more here.)
What is known about the missing person: Little is known about this individual. Law enforcement believes the body to be that of a male Caucasian approximately six foot tall.
Additional information: Van Patten said, law enforcement believes the body was "exposed to the elements for up to a year" before the man was found. This would mean the man went missing no earlier than the summer of 2012. "It looks like somebody had been staying there," Van Patten explained. There was a sleeping bag.
Femur bones were sent off for DNA extraction in February of 2014. As of the time of the interview, the Mendocino County Sheriff's Office had yet to receive any results.
————————————————————————
Anyone with information about these cases is urged to call the Mendocino County Sheriff's Tip-line at (707) 234-2100.