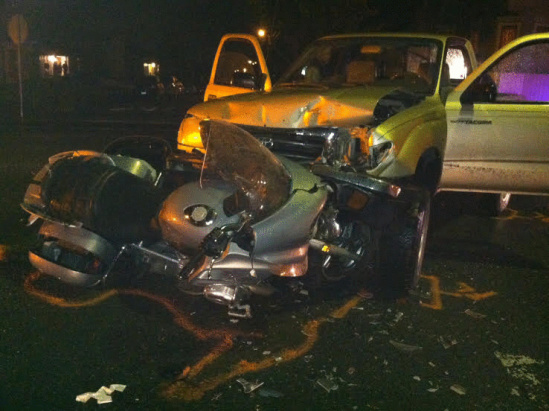 Eureka Police Department press release:
On 11/06/14 at about 5:50 p.m., Eureka Police, Humboldt Bay Fire, and City Ambulance were dispatched to the intersection of West Wabash and Pine for an injury traffic collision. Upon arrival, officers located a motorcycle pinned under the front of a Toyota truck.

The motorcycle was travelling east on Wabash and the Toyota was traveling west on Wabash. The driver of the Toyota, a 53-year-old, male Fortuna resident, turned left onto Pine Street and collided with the motorcycle.

The driver of the motorcycle, a 42-year-old male Eureka resident, was transported by ambulance to St. Joseph Hospital with serious injuries. He was later flown out of the area for further treatment.

Drugs and alcohol do not appear to be a factor in this collision. Any witnesses are asked to call Traffic Officer Dave Chapman at 441-4036.