The controversial death of 22-year-old Tommy McClain in an officer-involved shooting two weeks ago is still largely unexplained. Today, a press conference hosted by Eureka Police Chief Andrew Mills may provide some answers.
On the night of September 16 almost until his death early on September 17, McClain spent his last hours celebrating the birthday of his cousin and housemate, Josh Mottern. Soon after returning to his home, McClain was shot in his yard by a member of the Eureka Police Department. An EPD spokesman later said officers believed he had a handgun. McClain was then taken to the hospital where he was pronounced dead.
Family members claim his hands were in the air and empty when he was killed. Law enforcement claims a gun was recovered but has yet to reveal where the gun was found or what type of gun it was.
In an effort to help readers gain some clarity on events, below is a timeline of McClain's last hours.
Around 7 p.m. on September 16, a small, festive group went bowling to celebrate Josh Mottern's birthday.
Tommy McClain made a strike while bowling. [Video taken the night of the shooting.]
By 9:30, according to McClain's housemate and his cousin's wife, Nichole Mottern, the group had finished bowling and went to a club to celebrate.
Nichole Mottern said the birthday party left the club soon after midnight. She feels she has the time fairly accurately because she said her husband didn't want to leave and she told him, "It's not your birthday anymore. Let's go home."
Google Maps says the drive between the club and McClain's home should take about six minutes.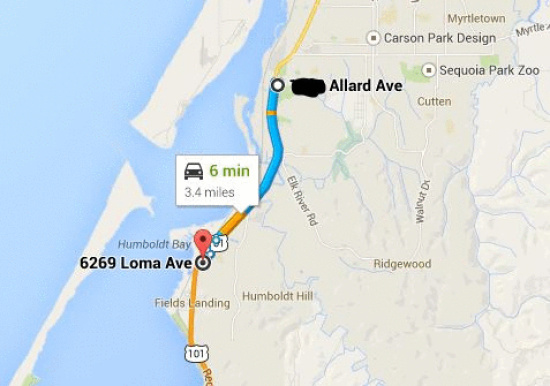 At 12:12 a.m. Nichole Mottern uploaded to Facebook a photo she had taken of a money clip from the club.
She says that she uploaded the photo while she was with McClain on the porch in front of their home.
In a previous interview with the Outpost, Mottern explained that her husband went upstairs to bed when they got home. After chatting with McClain for a bit, she climbed the stairs to check on her spouse.
According to Mottern, while she was upstairs she saw that Tommy had commented on her money clip Facebook post. Facebook shows he thanked her at 12:25 a.m. "for the fun time."
McClain apparently checked Facebook at least one more time after that. He commented on a friend's post at 12:27 a.m. (See image below.)

Meanwhile, according to a statement released by the Eureka Police Department, "On September 16, 2014 at about 11:00 p.m., officers from the Eureka Police Department were in the area of 1600 Allard Street looking for two subjects wanted on felony warrants." In what the press release calls a "short time later,"
…an officer observed two men arguing on 1600 Allard Street. During the argument one of the men appeared have a handgun. Fearing the argument was escalating he summoned additional officers who then confronted the man with the gun.
In Mottern's account given to the Outpost within two days of the shooting, she said that while she was upstairs checking on her husband, she noticed a law enforcement officer down behind her home "looking around." The officer "took off towards the front of the house." Mottern headed downstairs towards the front of the house to see what had caused the officer to move so quickly.
When she got to the front of the home, she said, officers "were out there screaming, 'Put your hands up! Put your hands up.' I put my hands up." McClain, she explained, came out from beside the porch. He started to put his hands up, too, she said, and began walking towards the officers who were near the street in front of the home.
According to scanner tape of the incident, at 12:30:43 a.m., an officer said to dispatch, "We've got one at gunpoint."
At 12:31:08 a.m., excited shouting can be heard. An officer then says into the scanner mike, "Shots fired. One down… . Request medical, Code Three."
A neighbor who prefers to be anonymous reported in an earlier story about McCain's death that he "saw an object' in McCain's hand and McCain's behavior was a clear threat to the officer's life..
The initial press release from the Eureka Police Department explained their version of events,
As officers gave commands to the man with the gun which was now visible, the subject grabbed for the gun. A Eureka Police officer fired his weapon striking the subject. The wounded man was transported to Saint Joseph's Hospital by paramedics where he was pronounced dead.
A press conference with Chief Andrew Mills of the Eureka Police Department is scheduled for today at 11:30 a.m. Reporters from the Outpost will be on hand and will bring you live updates.
PREVIOUSLY: