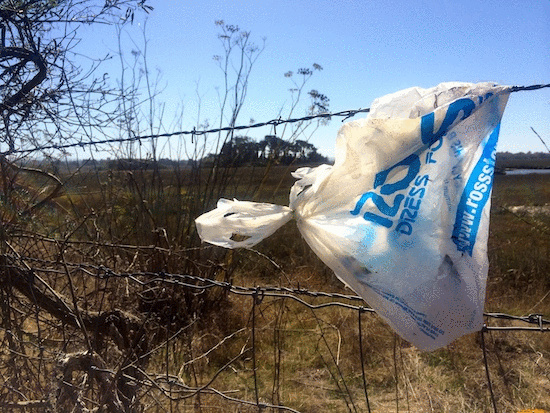 Today in plastic bags #1
Finally, at long last, after years of advocacy, decades of data and a half-century of existence, single-use plastic bags are no longer welcome in California. Governor Jerry Brown made it official today.
From the Gov's newsroom:
"This bill is a step in the right direction – it reduces the torrent of plastic polluting our beaches, parks and even the vast ocean itself," said Governor Brown. "We're the first to ban these bags, and we won't be the last." Read the whole thing here,
North Coast environmental advocates celebrated. Zero Waste Humboldt President Maggie Gainer said, "In Zero Waste Humboldt's never-ending mission to end the environmental and economic damage done by single use products and packaging, it's nice to take a moment to celebrate." Gainer pointed out that Arcata is among the 127 California cities and counties that had already adopted a single use plastic bag ordinance. She ended her statement with a quote by Mark Murray, executive director of Californians Against Waste (and HSU alum). "Forty years ago there were no plastic grocery bags," Murray said. "Four years from now, we'll forget there ever were."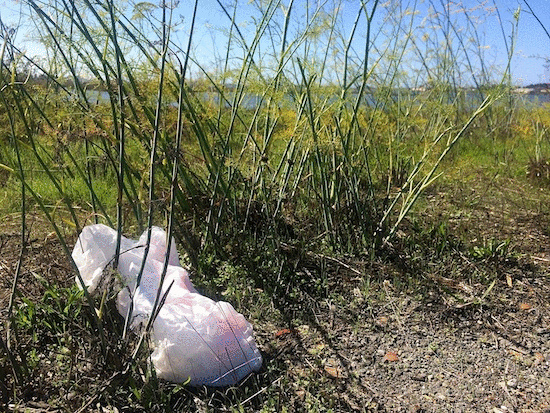 Today in plastic bags #2
The ban comes on the heels of Coastal Cleanup Day, coordinated locally by the Northcoast Environmental Center. Plastic bags are always in the "Top 10" most common types of litter collected.
Representatives from Humboldt Surfrider and Humboldt Baykeeper, longtime advocates of the ban, cheered the Governor's signing as well. Former Humboldt Surfrider Volunteer Coordinator MJ Mazurek, who worked for years to persuade people to switch to reusable bags and has since left the North Coast for the North Shore, posted on Facebook, "Way to go Jerry!!! Thanks to the thousands of people that helped make this happen – now let's do the same on Oahu!"
California is the first state in the nation to outlaw single-use plastic bags.
More coverage in the L.A. Times and Sac Bee.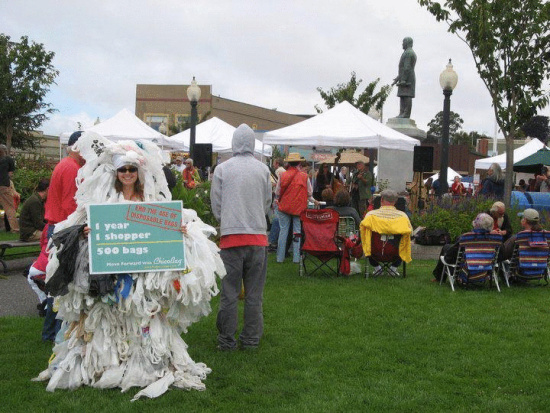 Finally, all that work paid off! The Bag Monster, Arcata Plaza, April, 2012
PREVIOUSLY