UPDATE 1:50 p.m.: Photos provided by Caltrans.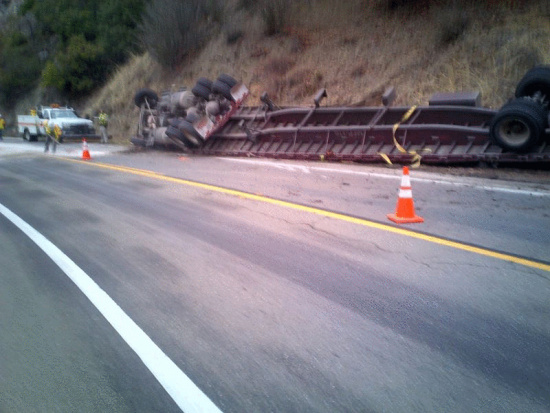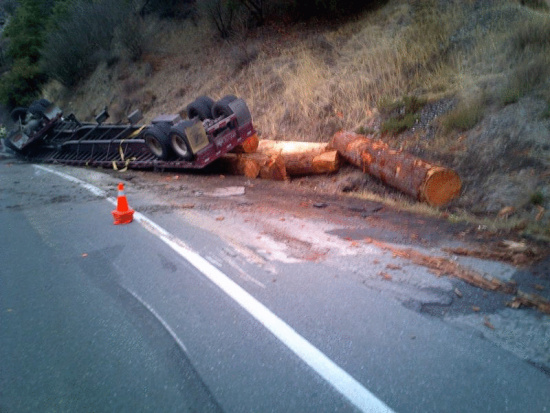 UPDATE 1:14 p.m.: California Highway Patrol press release:
On October 16, 2014, at approximately 0545 hours, Gary Simmons was driving a Mendocino Forest Products Peterbuilt logging truck and trailer northbound on US 101, just south of Bridges Creek, near Leggett, CA. For reasons still under investigation, Simmons was unable to negotiate the curvature of the roadway. The Peterbuilt truck and trailer traveled off of the east roadway edge, and subsequently overturned, partially blocking the northbound lane of US 101. Logs on the trailer became separated and collided with an ascending dirt embankment, just east of the road edge. Simmons sustained minor injuries as a result of the collision. No additional vehicles were involved. Alcohol is not a factor in the cause of this collision.

Approximately 5 gallons of diesel fuel spilled onto the roadway. No waterways were affected by the spill. One-way traffic control on US 101 was facilitated by CHP and Cal-Trans from approximately 0545 until approximately 1000 hours.

Mendocino Forest Products, Cal-Fire and Cal-Trans are assisting with the clean-up of the logs and diesel spill.

This collision remains under investigation by the California Highway Patrol, Garberville Area.
###
Original post:
A semi has rolled onto its side near Bridges Creek on Hwy 101 about five miles north of Leggett. Caltrans spokesperson, Betsy Totten said that one lane has been closed and a small amount of fuel has spilled.
According to CHP dispatch, the driver is bleeding from the head and has a hand injury.