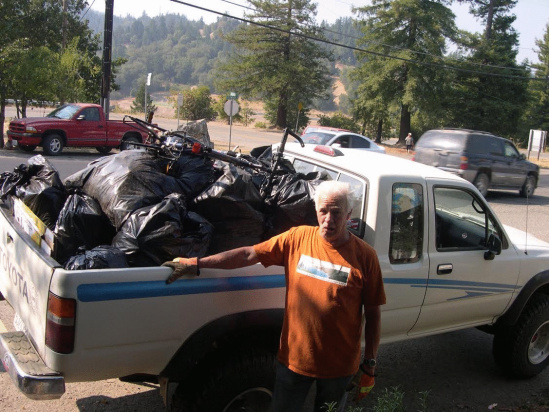 Mike Miller stands beside a pile of garbage he had just loaded into his truck. [Photo provided by Cathy Miller.]
"If everybody would pitch in and pick up a little trash here and there, it would be a lot easier job. It would keep it clean here," said Mike Miller, age 68, who has been picking up garbage once or twice a week for three years in the Southern Humboldt area. Miller wants to see the community work together to clean up garbage. On Saturday, October 25, he, along with others, have worked to organize a Community Cleanup in Southern Humboldt. In the northern half of the county, PacOut Green Team has cleanup planned for Mad River Beach on October 18.
Trash, particularly that found in homeless encampments, has become a public concern across the county. From northern to southern Humboldt, groups such as PacOut Green Team and individuals, such as Miller, are attempting to address the problem with cleanup days where community members are asked to join in cleaning specific areas or just by hauling out the garbage themselves.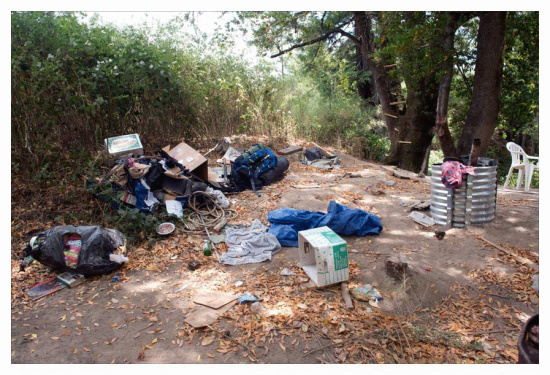 Trash found at a homeless encampment in Southern Humboldt this year.
Miller explained he became involved in clean up after attending a town meeting in Garberville about problems associated with the homeless and "trimmigrants," migrant workers in the marijuana business. "Everyone bitched at the meeting," he said. But, according to Miller, some of the participants also asked, "Are we going to do something about it?" Miller decided to start picking up trash.
Miller explained that he began with "this homeless guy—name was Eight, a navy veteran. I worked with him almost a year. I was picking up trash twice a week then. I've cut down to once a week now… . When I first started, I thought I'd give it a year… . I'm still doing it three years later."
While some groups go to areas inhabited by the homeless, Miller doesn't. "I don't really go into camps," he explained. "I engage with certain homeless people. I give them bags. I tell them when I'm going to be… . They put it in certain locations and I pick it up."
"Most of them don't have cars or money to [take garbage to the dump,]" Miller pointed out. However, some people are willing to help. he said, "There are a bunch of camps on the north end of Redway. There are some homeless back there who clean up… . They leave it for me somewhere at the trailheads."
Miller said that he believes that the homeless aren't to blame for all of the waste he gathers. "The trash I picked up today along the river bar—- I'm pretty sure it wasn't all homeless," he said. "A lot of local kids go down to the riverbar. There is illegal dumping, too. Sometimes when I pick up bags, I'm thinking they're from people with homes."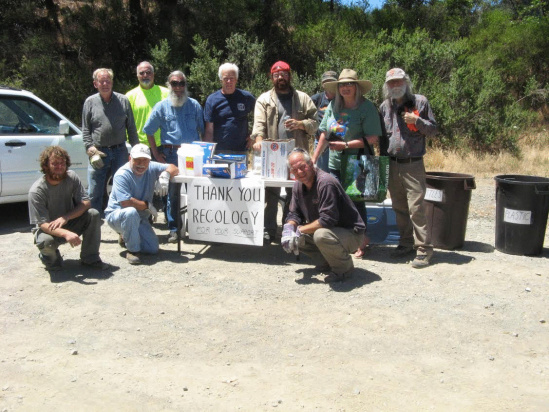 Some of the people who joined in the Southern Humboldt cleanup in June of 2013.
Miller estimates that he has picked up approximately 60,000 lbs over the last three years. In June of 2013, he organized a community clean-up that picked up 4,180 lbs and, in June of this year, the community cleanup day picked up 2,720 lbs. Luckily, he gets his dump fees waived by the County.
This next Saturday will be his three year anniversary of the day he first began pickling picking up trash on a large scale. That's a lot of trash picked up and, he admits, he's getting tired. "I'm getting ready to retire and see if there is anyone out there wanting to take over."
Not ready to take on the whole shebang? How about just a couple of hours? Miller's Community Cleanup starts at 10 a.m. and goes til two on Saturday, October 25.
For those who live in northern Humboldt, PacOut Green Team will be at the Mad River Beach Saturday, October 18 from 9 til 10.