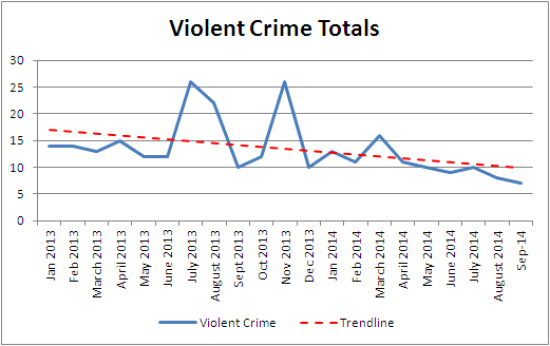 Eureka Police Department press release:
The Eureka Police Department's third quarter crime totals for 2014 have been recorded. Violent crime in Eureka is down 57% this quarter while property crime is up nearly 11% compared to the third quarter of 2013.

Overall there has been a 3.8% increase in crime since this time last year. Comparing crime data has allowed our department to identify a recent spike in residential burglaries and extra efforts are being directed to reduce those numbers. We are concerned property crime is up and we will continue to enlist the community's help.

"We are elated that violent crime is down 57% this quarter, but we will continue to monitor these trends over an extended period of time," said Chief Mills.

The Eureka Police Department hopes that sharing this information will drive a greater awareness of crime and demonstrate our desire to work with the community.

The attached two graphs show the violent and property crime totals since January 2013.
Previously: