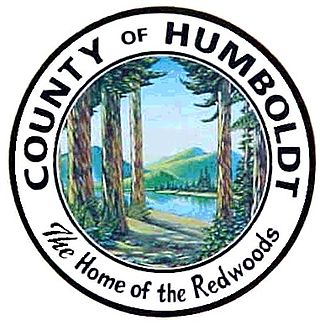 Do Humboldt County residents really care about money's influence on local elections? Or do we just say that to sound savvy?
That's the question raised by the Humboldt County Board of Supervisors today as it moved forward with an ordinance to regulate campaign donations in countywide elections, with almost no one from the public there to weigh in.
At the board's direction, county staff had prepared a draft ordinance [pdf] based on the one used in Sonoma County. It would limit individual donations to $1,500 per election cycle — with a runoff election considered a new cycle. Discussion on the proposal centered on the curious silence from the public.
Fifth District Supervisor Ryan Sundberg picked up on the theme, which was given voice the last time supervisors discussed this topic, back on Sept. 9. "I'd just like to reiterate how strange it is," Sundberg said. "Out on the street everyone thinks [campaign finance reform] is something that should happen. It seems unanimous." But when the item came up on today's agenda, Sundberg noted, there was exactly one member of the public present, along with three reporters.
Second District Supervisor Estelle Fennell agreed. "There's so much talk about it and no action," she said. "I'm extremely proud of this board that we're moving forward." Fennell noted that the regulations will apply not only to supervisor candidates but to all countywide office-seekers, including those running for district attorney and county sheriff.
Fennell then made a motion to adopt the proposed ordinance. Sundberg seconded the motion, though he suggested taking out a so-called "escalator" provision, which would automatically increase campaign contribution limits by five percent biannually. Fennell was initially reluctant to do so, though she said she'd be willing to reduce the automatic increases to two percent.
Fourth District Supervisor Virginia Bass suggested also removing a section governing late-donation reporting requirements, noting that state regulations already require such reporting. Her fellow supervisors were fine with this suggestion.
As often happens with this current board, Third District Supervisor Mark Lovelace proved to be the lone voice of dissent. While acknowledging that he was unlikely to change anyone's mind Lovelace said he didn't think that the proposed rules would accomplish much.
"I do support campaign finance reform," he said, "but I don't think this [ordinance] would change anything." He suggested that it would instead "lock in the current paradigm, which has been very advantageous to certain interests in the county."
At the Sept. 9 board meeting Lovelace suggested a much lower contribution limit — $500 per cycle. In a subsequent interview with the Outpost he noted that the supervisors, including himself, are "uniquely self-interested" in the matter. "Looking at recent campaigns, what's being proposed really does appear to fit quite neatly with the funding that's coming in."
Indeed, the $1,500 figure was a common one on campaign contribution reports in recent elections. For example, more than a dozen donors to Rex Bohn's 2012 campaign gave exactly $1,500. Meanwhile, nearly two dozen donors gave exactly $1,000 to Estelle Fennell's campaign. Many of these same donors, most of whom can loosely be described as developers or developer-friendly, also made lock-step contributions to the campaigns of Supervisors Bass and Sundberg in 2010 and again this year.
Are these donations the "bad" money influencing local elections? Or is it the bigger donations — the lumps of $10,000 or more given to candidates by the likes of lefty champion Bill Pierson, of Big Hammer fame, or big-bucks powerhouse the Blue Lake Rancheria? (Disclosure: the Blue Lake Rancheria is part owner of Lost Coast Communications, which owns the Outpost.)
Lovelace today said the individual donation cap should be smaller, and he repeated an argument he made a month ago — that there should be a voluntary spending limit to reduce total campaign costs. He has also voiced concern about the influence of political action committees and organizations, which can spend money on anonymous phone polls or mailers without having to report the expenditures as donations to specific candidates.
"I support campaign finance reform," Lovelace said today. "[But] this isn't it."
His fellow supervisors disagreed. First District Supervisor Rex Bohn argued that since 75 percent to 80 percent of elections in Humboldt County are decided in the primary, the $1,500 individual contribution limit will be the final word in the majority of campaigns.
In an interview with the Outpost last month, Sundberg said most of the complaints he's heard from constituents are about donations of $5,000 or more. And he said that in more rural, geographically vast districts like his own, a smaller contribution limit — like the $500 suggested by Lovelace — would be a bigger handicap since it's more challenging to get your message out. In urban districts like the Third (which encompasses Arcata) and Fourth (mostly Eureka) candidates can knock on all the doors. In his own district, Sundberg said, "you have to pay for ads, radio time, mailers — it's super expensive."
After agreeing to ax both the escalator clause and the redundant late-contribution reporting requirement, the supervisors voted 4-1, with Lovelace dissenting, to set the ordinance for adoption at next week's metting. That, Humboldt resident, means that if you do care about campaign finance reform, if you have an opinion about the proposed ordinance, then you have a little less than a week to express tell your representative(s).
Other notes/observations from today's meeting:
For the first time in this reporter's memory, a farm animal made an appearance in chambers. (See picture below.) The adorable black-and-pink piglet, which Bohn dubbed Kevin Bacon, was on hand (hoof?) with two young 4-H members in honor of the newly re-declared 4-H Week in Humboldt County.
A cellphone went off in the midst of Supervisor Lovelace's reading of "The Great California ShakeOut Proclamation and Presentation." The phone, it turned out, belonged to Eureka Police Chief Andy Mills, who got up and left the chamber. When he returned a couple minutes later, Supervisor Bohn asked him what tune that was on his ringtone. Mills responded, "Uncle Kracker."
Mills was there, along with Cory Crnich of the Eureka Police Officers Association, to urge support for Eureka's Measure Q, which would continue the half-percent sales tax ushered in with 2010's Measure O. Both Mills and Crnich said that, as with Measure O, the roughly $4 million in annual revenues generated by the tax would go toward public safety expenses, primarily for the Humboldt Bay Fire Department and the Eureka Police Department. With the latter agency the revenue would continue to fund public safety officers and the Problem Oriented Policing unit. Supervisor Fennell said Measure Q would work hand-in-hand with Measure Z, a similar, countywide public safety tax measure that will appear on the ballot next month.
Troy Fletcher, executive director of the Yurok Tribe, gave a slideshow presentation outlining the environmental havoc being wreaked on the tribal reservation by marijuana grows. The scenes resemble much of the rest of the county — water diversions, un-permitted structures and grading, runoff from fertilizers and rodenticides, outlaw growers armed with automatic weapons, etc. The tribe participated in multi-agency law enforcement eradication efforts this year, and Fletcher said he hopes to get the county on the same page while spreading the word that there's a zero-tolerance policy for marijuana grows that impact tribal lands, including grows that are on adjacent private parcels. A man named Stormy Manning got up to dispute the legality of this latter stance, arguing on behalf of a local landowners association that private landowners have a legal right to grow their medicine, even in such close proximity to tribal lands. Fletcher disagreed and vowed to continue eradicate such grows.
The public comment quote of the day belonged to self-described "public meeting enthusiast" Kent Sawatsky, who offered a poetic take on geology during the ShakeOut presentation. "Earthquakes are just another tool in Mother Nature's tool belt," he said. "She sends messages with it."