Humboldt County's Murder Mountain was examined on CBS KPIX's special news segment last night.
The Alderpoint Eight as well as the disappearance and homicide of Garrett Rodriguez have been followed closely on the Lost Coast Outpost and in Rodriquez's hometown. Last night, San Francisco news also took a video look at the situation. The piece reviewed the "highlights" of the Rancho Sequoia recent deaths. The story focused mainly on the Rodriguez's homicide but also looked at the involvement of the Alderpoint Eight vigilante group in bringing to light where Rodriguez's body had been buried. The piece also notes that at least one of the two men killed this July was a member of the vigilante group. Several locals speak on camera about the situation.
Here is a short excerpt from the accompanying written piece.
It's just like what it was back in the prohibition days. Many of these communities will try and solve their problems on their own. And by the time that happens unfortunately the problem has magnified," said Lt. Knight.

In fact, this summer two more people were gunned down on [Murder Mountain.] A family member tells us at least one of the men was a member of the Alderpoint 8.
To read the piece, go here.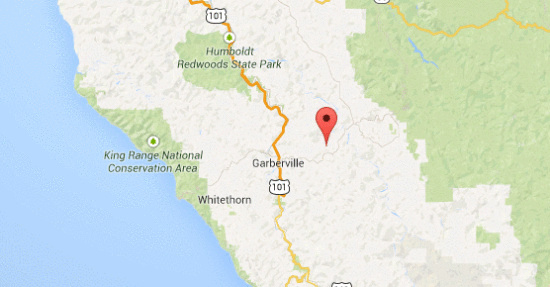 Google map showing the approximate location of Rancho Sequoia which has been nicknamed Murder Mountain.
PREVIOUS stories on the death of Garret Rodriguez on LoCO:
PREVIOUS stories on the deaths of Neil Decker and Scott Johnson: