PREVIOUSLY
###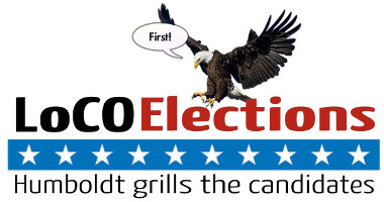 If you haven't been tuned into LoCOElections!, citizen, then you sure are missing out! The star of the show so far has been Natalie Arroyo, candidate for Eureka City Council from the Fifth Ward. Arroyo has a .600 batting average so far this season, and most of her answers to questions have been long and thoughtful.
Runners-up: Sofia Pereira, Arcata City Council candidate (1-1), and Kim Bergel, Eureka City Council Third Ward Candidate (1-3).
Big announcement today, though. Not only have a bunch more candidates signed up, but we've gotten proponents and opponents for this election's sizzling-hot ballot initiatives on board as well. Check it:
Measure R, The Eureka Fair Wage Act — This citywide initiative would raise Eureka's minimum wage to $12 an hour for businesses (and eventually nonprofits) with over 25 employees in the city limits. Holding up the Yes on R position on LoCOElections! is Kim "Verbena" Starr, organizer with the initiative sponsoring "Fair Wage Folks." We've enlisted Don Smullin, executive director of the Eureka Chamber of Commerce, to handle the No on R side of things. No questions for Starr or Smullin yet — get cracking, people! — but they've both been posting up their literature.
Measure P, the countywide ban on transgenic crops (GMOs) — For the Yes on P side (pro-ban) we have Wilhelm Schaser, spokesperson for the GMO Free Humboldt committee. Skeptical of GMO skepticism? Put it to Schaser. There doesn't seem to be any official No on P committee, but we have enlisted Rollin Richmond — geneticist, former Humboldt State University president and GMO proponent — to argue to case against the initiative. Got a beef with GMOs? Take it out on him.
Measure Q, Eureka sales tax extension — Corrie Watson, co-chair of the Yes on Q committee, graciously contacted us and asked to hold up the pro-tax position.
There are a few more important measures out there — notably Measure Z, the county's own sales tax initiative — but no one has yet contacted us for a LoCOElections! login. Do you have standing to represent the cause for or against? Or are you an anti-Q person? Contact me and I'll set you up: hank@lostcoastoutpost.com or (707) 786-5104.
Now the same goes for you candidates who have not signed up yet. Here's who is signed up and ready for your questions:
Eureka City Council
Natalie Arroyo
Kim Bergel
Arcata City Council
Jason Carr
Sofia Pereira
Juan Fernandez
Who isn't ready to face your questions? Everyone else, but notably incumbent Eureka City Councilmembers Mike Newman and Chet Albin, who are each facing pretty tough challengers. The Outpost is holding out hope, though. Sign up now, fellas! All will be forgiven! You got my digits! Same goes for you Arcata and Fortuna city council hopefuls!
Need a LoCOElections! primer before you start grilling the candidates and/or opponents/proponents? Read this thing here, which was written back in March. Questions? Post them here.