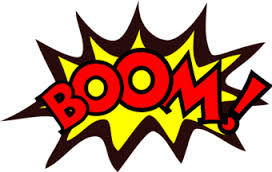 Maybe not.
LoCO readers in Eureka took to our Facebook page a few minutes ago to let us know that they'd once again had the BOOM lowered on them. Sigh. To tell the story of this one, we will chronologically list the messages we received in the 10 minutes following the sound. Please note the wildly varying locations of the reporters and then maybe again abandon hope of ever understanding this annoyance:
9:54 p.m.: Another boom.

9:54 p.m.: Explosion sound in Myrtle again.

9:55 p.m.: Just heard a huge explosion in Henderson Center. I think I'm getting tired of Humboldt.

9:58 p.m.: Boom 2nd and S st . Who else heard/felt it??

9:58 p.m.: BOOM — Cooper Gulch about 5 mins ago or less

9:58 p.m.: Loud boom at Bell Hill 5 minutes ago. Anyone else hear it?

9:59 p.m.: Boom

10:02 p.m.: Loud boom heard east of King Salmon 6 minutes or so ago …
What does it all mean? Meh. We'll keep cataloguing these for future reference and under LoCO's loose "don't act like something didn't happen" philosophy, but really we just want to watch the DJ Jazzy Jeff and the Fresh Prince video below about now. Then bed.
PREVIOUS TWO MAKES IT TRUE: