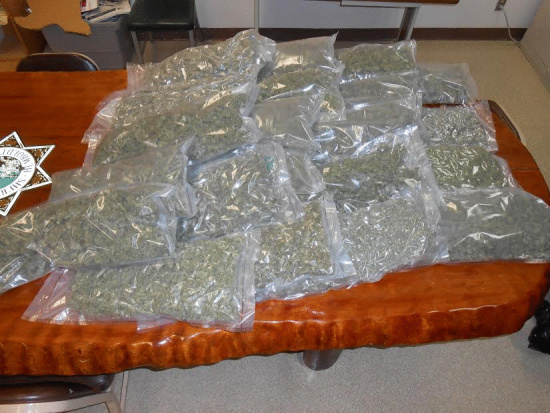 Humboldt County Sheriff's office press release:
On 09-23-2014, at approximately midnight, a Humboldt County Sheriff's deputy stopped a 2014 black Lexus on Redwood Drive at Sprowel Creek Road, Garberville for a traffic violation. When the deputy spoke with the driver identified as Anthony Coutain, 42 years old from Concord, he smelled the odor of marijuana emanating from the vehicle. When the deputy asked Courtain about the marijuana smell in his vehicle Coutain told the deputy he had a small amount in a marijuana pipe, which he handed to the deputy. The deputy had Coutain step from the vehicle and the deputy searched the inside of the vehicle. The deputy removed a large black duffel bag which contained 21 one pound bags of marijuana bud. Coutain was arrested for possession of marijuana for sale, driving unlicensed and transportation of marijuana. He was transported to the Humboldt County Correctional Facility where he was booked on the charges. His bail was set at $25,000.

Anyone with information for the Sheriffs Office regarding this case or related criminal activity is encouraged to call the Sheriffs Office at 707-445-7251 or the Sheriffs Office Crime Tip line at 707-268-2539.