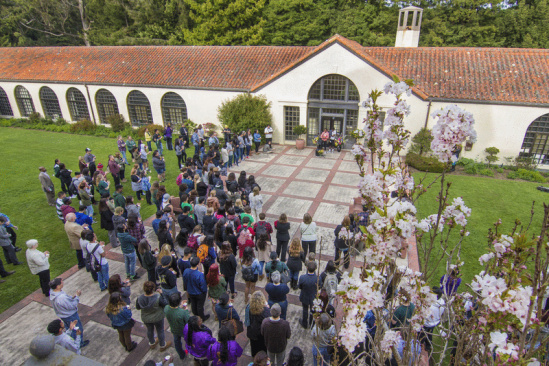 As survivors, supporters and friends bowed their heads in silence, 10 bells rang out for each life lost in the tragic Orland, Calif. bus crash one year ago.
One. Arthur Arzola: The newlywed admissions counselor with a passion for inspiring inner city teens to achieve a college education.
Two. Michael Myvette (aka "Butt Naked Mike"): The outgoing Spring Preview chaperone who proposed to his fiancee in Paris four months earlier.
Three. Mattison Haywood: Who was studying to become a doctor and died alongside her fiance, Michael, on the way to the university where they first met.
Four. Jennifer Bonilla: The Dorsey High School student who never met up with her friends from the first bus, which arrived safely at Humboldt State.
Five. Denise Gomez: Reigning homecoming queen and one of two Animo Charter High School students killed in the crash.
Six. Ismael Jimenez: Who was last seen helping other students escape the fiery wreckage.
Seven. Adrian Castro: The popular athlete who sat in front of the bus to share his favorite music over the sound system.
Eight. Marisa Serrato: The Norte Vista High School student whose identical twin sister arrived safely on the first bus and returned home, alone.
Nine. Talalelei Feleni Lealao-Taiao: The bus driver who had recently become a grandmother for the first time.
Ten. Timothy Evans: The FedEx driver who left behind a wife and two daughters.
One year later, HSU still mourns the most tragic event in school history. The community gathered in the Founders Hall Courtyard Friday evening to honor the lives lost in the April 10 bus crash by lighting candles and sharing stories. Speakers drew laughter and tears from the crowd as survivors publicly mourned with the HSU community for the first time.
Harley Hoyt said he was proud to see his fellow survivors make it through their freshman year of college at HSU.
"I'm proud of every single student here from the bus crash who has stuck it out to finish the whole year," Hoyt said. "And I know every single person on that bus would want to see you doing this right now."
Several speakers expressed their feelings through poetry. HSU President Lisa Rossbacher shared a Native American poem about the cycles of life. Vice President Joyce Lopes read California's Poet Laureate Juan Felipe Herrera's poem written specifically about the bus crash. And survivor Daebreon Kendrick read his own.
"Ever since the crash happened, I've found solace in writing poetry," he said.
"Six months ago some people died.
Tears have never fallen from my eyes, but I've cried.
That day I died, too. Well, on the inside …"
Those who knew Arzola, Myvette and Haywood, like Outreach Assistant Director Romi Hitchcock-Tinseth, were brought to tears as they shared memories of their fallen friends.
"He was one of the most incredible human beings I have ever known," Hitchcock-Tinseth said of Arzola. "His love and commitment to helping students succeed was what drove him every day, and he had a smile that lit the room around him."
Amidst the grieving, HSU alumni and Spring Preview chaperone Eric Williams reminded the crowd that the survivors are living examples of the fallen chaperones' legacy.
"When you attend Humboldt, whether you're faculty, staff, student, alumni … We're family. Humboldt is a community," Williams said. "The three chaperones who I knew and loved so dearly, I know they would want us to continue doing what we're doing. And I can honestly say by your presence here, you're doing just that."
Although some survivors may never emotionally recover from the crash, students like Kendrick are motivated to find meaning in the tragedy.
"When the crash happened, there was a billboard that said 'Soooo Close!' behind the burning bus. When I drove up to attend HSU, I told my mom I needed to visit the crash site," Kendrick said. "I went there, and I was amazed by all of the fresh flowers and the posters put up by the community. And that same billboard, instead of saying so close, there was a quote: 'Education is the most powerful weapon you can use to change the world. Nelson Mandela'
"That was a message to all the survivors saying: through education we will find the reason why we were on that bus and why we're still alive."