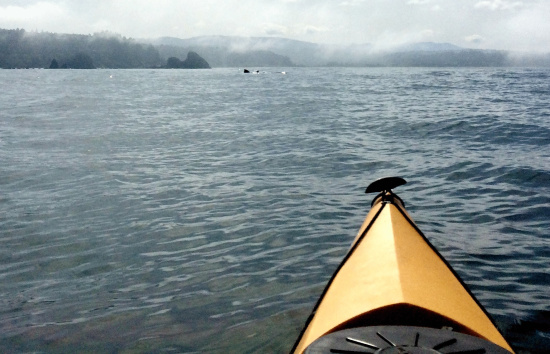 Gray whales near Trinidad by Jennifer Savage.
As you've undoubtedly read, the beach and ocean are expected to be especially dangerous today and tomorrow, but you can still stand safely on the bluffs overlooking Trinidad Harbor and surrounding areas and witness the continuing migration of gray whales northward. For the more intrepid – and once the sea calms down – get eye level on the water – a guided tour is recommended for the less experienced. (LoCO has you covered with both LoCO Earth's Ocean report and links to Pacific Outfitters Adventure Tours.)
Speaking of size and interval, a happy welcome back to everyone's favorite buoy, 46022! After months of missing it, seeing that red diamond turn yellow is a happy occasion, indeed.
Grant awards benefit fish, public
And speaking of happy occasions, several area nonprofits groups and agencies have reason to smile: Senator Mike McGuire announced last week that California Coastal Conservancy has approved grants totaling over $1.3 million dollars in restoration funds for Humboldt County.
The approved projects include:
$25,434 to Friends of the Dunes and $47,075 to Redwood Community Action Agency to implement the Humboldt Bay Dunes and Marsh Restoration Project
$85,000 to the Northcoast Regional Land Trust to implement the Freshwater Farms Nature Trail Project and Improvements in Humboldt County
$950,000 in US Fish and Wildlife service funds and $500,000 in Conservancy funds to Humboldt County Resource Conservation District to implement the White Slough Restoration Project
$200,000 to California Trout, Inc. to prepare designs and permit applications for the Mad River Floodplain Restoration and Public Access Project and implement a pilot floodplain biofiltration project in Humboldt County
Additionally, $326,000 has been awarded to the Smith River Alliance for the Hamilton Creek Fish Passage Improvement Project.
Get 'Ocean Friendly' tonight
If you'd like to take a more personal approach in making your domestic environs easy on the sea, GHD's Lia Webb and Lia Webb, GHD, and Eric Johnson of Samara Restoration host "Ocean Friendly Gardens and Landscapes" tonight from 7 to 8:30 p.m. at the Masonic lodge on Bayside Road in Arcata.Wine, oysters and other appetizers provided; this presentation will be of interest to property owners, designers, planners, agriculture producers, community organizers, consultants, landscapers, watershed managers, surfers and swimmers, native plant enthusiasts, students and, well, anyone.
Salp?
Not as surprising as last week's purple snails, but still rare, we learned when Third District Supervisor Mark Lovelace posted a photo of a "strange, gelatinous creature on the beach" and asked, "Anyone know anything about it?"
Turns out it was a salp.