NOTE: See update to this story here.
# # #
WARNING: The video below contains disturbing imagery.
The video footage above, shot Monday evening via a remote-control quadcopter drone, reveals an open grave piled with cattle carcasses in various stages of decomposition. The carcasses are located in a large pasture just north of Samoa Boulevard/State Route 255 in the Arcata Bottoms, on property owned by local rancher Raymond Christie.
The videographer, who asked to remain anonymous, told the Outpost that he pulled off Samoa Boulevard yesterday looking for a quiet, open space to fly his quadcopter. He had parked on a large slab of old concrete, 2.4 miles west of Arcata's K Street, and when he got out of the car his eyes were drawn to a large number of birds taking off from behind a nearby bush. After launching his drone From behind a fence he saw that the birds had been perched atop the dead cattle, and he launched his drone for an overhead view.
The Outpost drove to the location this morning, pulling off the road and parking on the weed-riddled concrete. From an adjacent wire fence, the pile of carcasses was plainly visible, and standing downwind the smell of rotting flesh was powerful. Two sheep could be seen grazing nearby in the open field, which drains into nearby Liscom Slough and Mad River Slough.
It makes for a gruesome scene, but is the large open grave in fact a crime?
The Outpost attempted to reach the Humboldt County Agriculture Commissioner, but we were told that he's unavailable until next week. Eventually we shared the video with employees at the Humboldt County Department of Health and Human Services Environmental Health Division, which has launched an investigation.
Christie, the property owner, said the pile of carcasses is standard practice. "Any ranch you go to is gonna have a spot for dead carcasses," he said. With a herd of about 2,000 cattle on as many acres, Christie said death is inevitable, especially since he purchases many animals that other ranchers won't buy. "I deal with a lot of weak animals," he said. "Some make it; some don't."
In 2009, Christie was charged with six misdemeanors related to cockfighting after law enforcement raided his property in McKinleyville and seized 1,400 roosters, 72 knives and 13 pairs of gaffs (or spurs). He was eventually convicted of just one charge, possessing cockfighting instruments, and sentenced to two years' probation and a $530 fine.
Christie insists that his cattle operation is benevolent. Asked why he buys weak or unhealthy cattle he said, "Nobody wants 'em, for one, and there's no better satisfaction than turning them around to animals that will produce milk again or provide beef down the road."
The cattle he buys sometimes haven't received the proper vaccinations, parasite controls or mineral intakes, leaving them vulnerable to such maladies as red water (aka Bacillary Hemoglobinuria), blackleg and lungworm, Christie said. "It hurts me if I do lose one, but you always do. And you learn."
Christie said he was told "years ago" by the Sheriff's Office that he should place carcasses on the high spot of his property. "These carcasses are on a high spot, on a mound out there," he said. "Everything's within the legal realm."
When the Outpost relayed Christie's comments to Humboldt County Environmental Health Director Melissa Martel she said, "He didn't mention the county guidelines we sent him in June 2014?"
Those guidelines, which can be viewed here, say carcasses should be buried at least five feet above the seasonally highest level of groundwater and beneath three feet of soil. They also call for burial sites to be at least 150 feet from the high-water mark of any watercourse or any body of surface water.
"That would prohibit him from burying cows anywhere on his property," Martel said of the guidelines. She explained that her department sent Christie the guidelines after receiving complaints last year. The agency's primary concern, in these cases, is the health of the groundwater, Martel said.
Photos taken by the Outpost (below) show standing water on the property near the carcasses and the grazing sheep. Christie said he will periodically dig graves and bury the carcasses on the property. Asked how regularly this happens he said, "It all depends on what comes in." The current pile, he said, is "due to be buried anytime."
The pile of carcasses is also visible on satellite images from Google Maps and Google Earth. The latter program allows you to cycle back through past satellite images. A pile of carcasses can be seen in the same spot in an image from May, 2014. There is no pile visible in images from May and August of 2012.
Martel said that in cases like this, her department will generally invite other agencies that may have jurisdiction to collaborate on any investigation.
[Note: This post has been changed to clarify that the drone videographer spotted the carcasses before launching his drone.]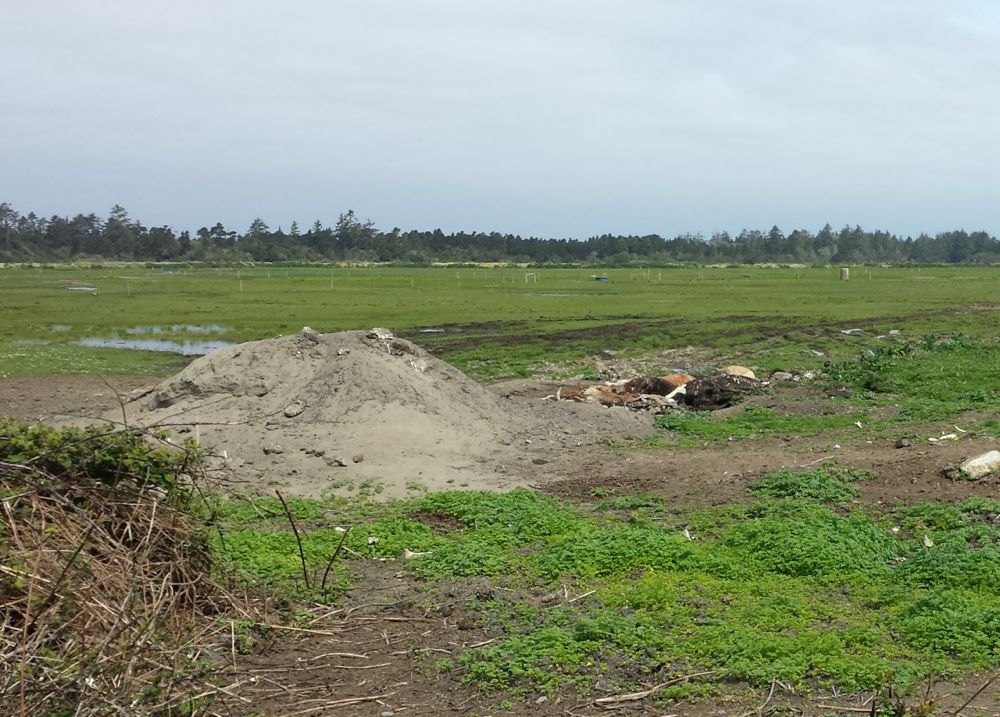 Muddy tire tracks led from the pile of carcasses back toward a red barn on the same parcel, near Jackson Ranch Road.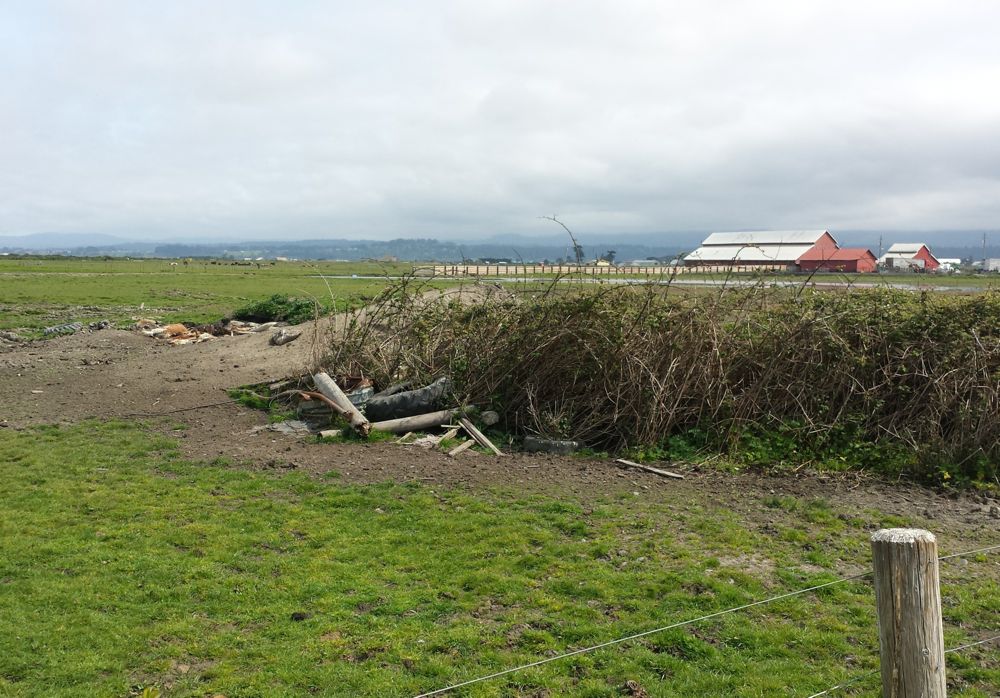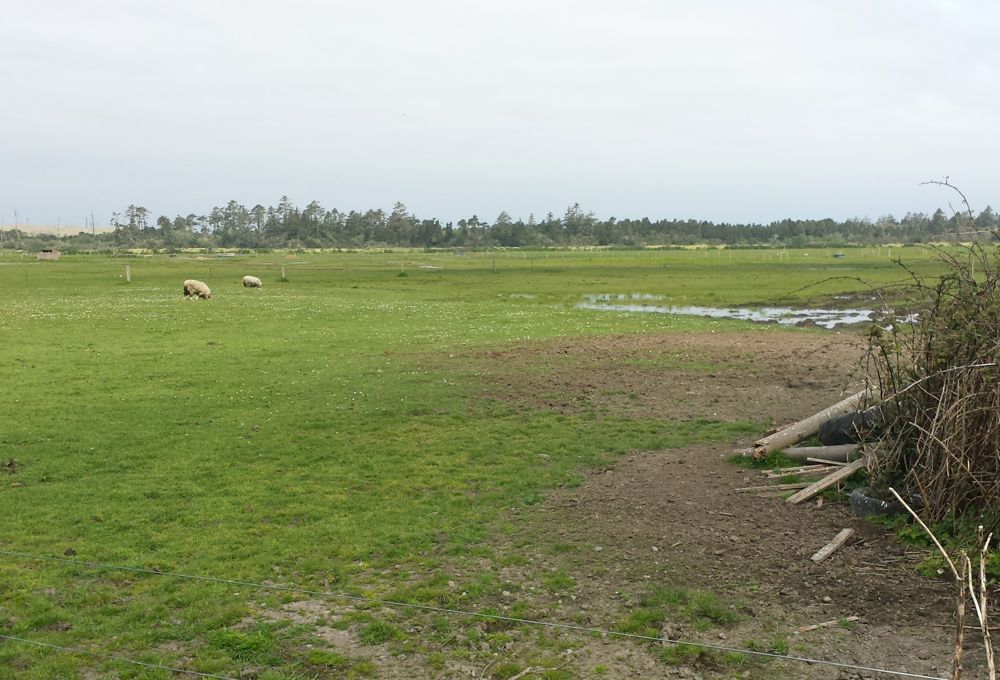 Sheep grazing near standing water near the carcasses.