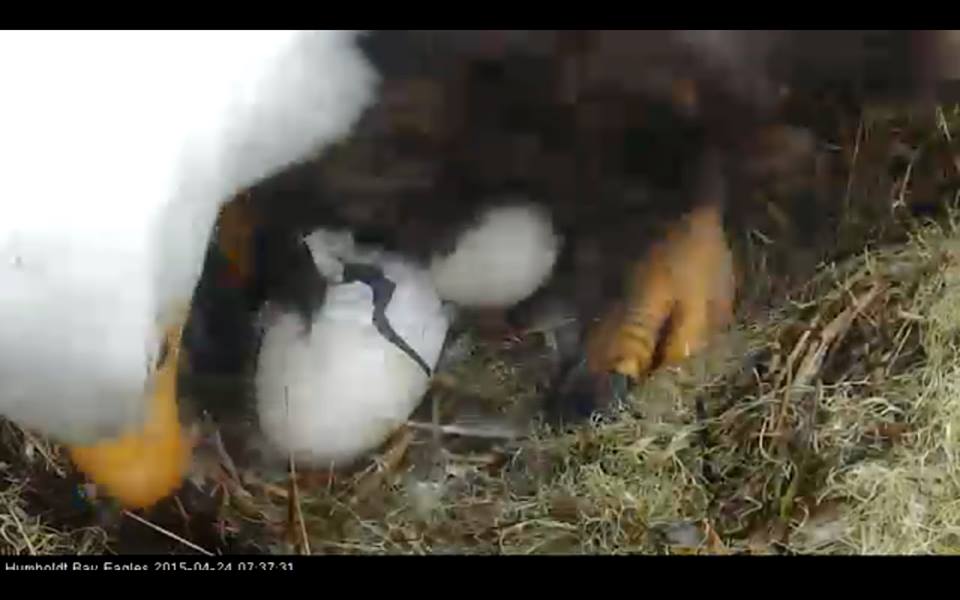 Your Lost Coast Outpost couldn't bear to look back and see if we used this exact same headline the last time the Humboldt Bay Eagle Cam eagles hatched young ones. Seems likely and we don't want to feel guilty for using it again. Never mind that, the point is that, just after 7 a.m. this morning, Mr. and Mrs. HBE once again became proud parents when the first of two eggs laid this year cracked open to reveal a, uh, cute little eaglet. The birth resulted in much celebration, screen shot sharing and exclamation marks over at the Humboldt Bay Eagles Facebook group.
"Woo hoo," said group member Loretta Bradford-David.
"Ah…….HAPPY HAPPY!!!!" Sam Grace added.
"Love feels like this!" Danielle Orr exclaimed.
"precious little peep!!! Thanks Lord!!!" Merry Ann Grow submitted.
"Yaaaaaaaaaaayyyyyyyyyy!" Donna Lucas posted, effectively summing up the mood of all eagle freaks this morning. And with one more egg yet to hatch, the Internet still has an additional shot of jubilation to look forward to. Squawk!
Would you like to see video of the new pink addition? Good news! There's one below these words!