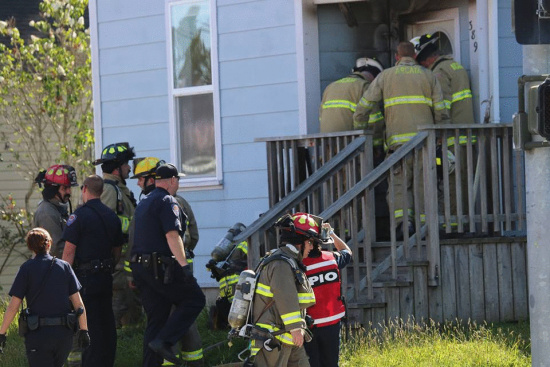 Photos courtesy Louis Gordon
Friend of the LoCO Louis Gordon writes in to report smoke was emanating from the doorway of a house at the corner of Samoa Boulevard and H Street. Fire fighters responded quickly to the scene and it seems that the house has escaped serious damage, though the singe may drop the asking price (note the for sale sign in the front yard).
No reports of any injuries.
# # #
UPDATE: Press release from Arcata Fire District:
Just after 4:00 PM Arcata Fire District responded to a reported structure fire located in the 300 block of H Street. The structure is a single family residence being used as a commercial occupancy. At the time of the fire, the structure was unoccupied.

Upon arrival, Battalion Chief Sean Campbell reported visible flames on the front porch of the structure extending up to the eaves. There was also light smoke coming from the eaves. Within a few minutes, the first engine arrived on scene and started to deploy their hose line to extinguish the fire. At the same time two other Chief Officers who had arrived on scene shortly before the engine, deployed a dry chemical fire extinguisher and a water extinguisher to slow the spread of the fire. Fire Chief Cowan approached the fire first with his dry chemical extinguisher with Assistant Chief McDonald as backup with his water extinguisher. Within a few second Chief Cowan and Chief McDonald controlled the fire. Arcata fire crews continued to work the scene to ensure there was no fire extension into the attic or under the porch. "Fortunately for the owner the fire happened in the middle of the day and with the close proximity of our fire station we were able to contain this fire with minimal damage" stated Fire Chief Cowan.

The fire appears to be suspicious in nature and the Arcata Fire District is coordinating its efforts with the Arcata Police Department in the investigation. This is the third fire at this location in the past two years.

No injuries were reported and the damage is unknown at this time.