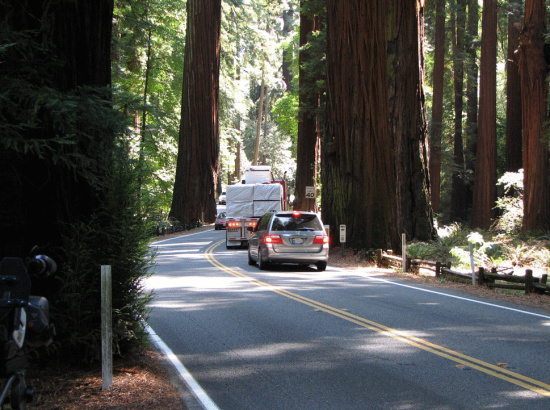 A federal judge this week denied a request for more than $125,000 in attorneys' fees from a group of environmental advocates who had sued Caltrans over the agency's planned Richardson Grove Improvement Project. The plaintiffs, including the Environmental Protection Information Center (EPIC), Californians for Alternatives to Toxics (CATs) and the Center for Biological Diversity, filed a federal lawsuit against the state agency in 2010, claiming that a project to widen Highway 101 through the grove threatened the old growth redwoods there.
Caltrans says the project will neither remove nor damage any old growth redwood trees. The widening project is intended to let industry-standard big rigs pass through a narrow, winding and beautiful one-mile stretch through the state park. With the current roadway narrowing to just 22 feet wide in spots, full-sized semi trucks can't legally pass through. Trucking companies have to either transfer loads into smaller trailers or take a 446-mile detour to reach Eureka.
The 2010 lawsuit alleged that Caltrans had violated the National Environmental Protection Act (NEPA) in part by preparing inaccurate maps of the project area. In 2012, U.S. District Judge William Alsup agreed, ordering Caltrans to redraw the maps as part of an environmental assessment, though he stopped short of requiring a full environmental impact report.
The parties in that case initially resolved attorneys' fees during mediation, but the environmentalists later sued again, claiming Caltrans had not complied with Judge Alsup's order, according to Courthouse News Service. The plaintiffs filed for $125,299.35 in attorneys' fees and $1,433.35 in costs, under the Equal Access to Justice Act (EAJA).
But in his ruling this week, Alsup denied the request on the grounds that, "No federal court has ever held that the EAJA authorizes an award of fees in an action against a state, state agency, or its officials."
The judge even got a little snippy with the plaintiffs:
The undersigned judge requested that the parties provide on-point authority on just this issue … . In response, plaintiffs filed a six-page brief and supporting declarations and exhibits — in disregard of a request limiting supplemental briefing to five pages and disallowing attachments — in which plaintiffs cited neither binding precedent nor on-point authority. …

Nevertheless, to be as fair to plaintiffs as possible, the Court, on its own, reviewed more than 600 EAJA decisions. No federal court (or state court) has ever awarded EAJA fees against a state agency. In these circumstances, there is simply no authority to order the relief sought.
And even if the plaintiffs had a legitimate beef, Alsup wrote, they filed their motion too late, well after the allowed 30-day post-judgment limit.
Reached by phone this morning, EPIC Program and Legal Coordinator Tom Wheeler said the ruling won't affect the work being done by the group.
"Frankly, I don't think there's much of a story there," Wheeler said. "We think the judge has misapplied the law." The only effect, he said, is that "our hardworking attorneys might lose a bit of money. It's not going to stop us from going forward with any other projects."
Peter Galvin with the Center for Biological Diversity agreed. "Respectfully, we think the judge is in error on this point regarding the fee award issue," he said in an email. "Caltrans is actually partly carrying out functions of the Federal Highway Administration in their actions in this project/case and thus they are rightfully liable under the EAJA statute. We plan to appeal this part of his ruling to the 9th Circuit Court of Appeals."
Californians for Alternatives to Toxics did not immediately respond to a request for comment.
Caltrans is currently performing additional environmental studies pursuant to an appellate court ruling at the state level, and agency officials told the Humboldt County Supervisors last month that they hope to get environmental clearance next year and resume the project in 2017, according to the Times-Standard. An official also reportedly told the supes that Caltrans expects to get sued again over the project.
DOCUMENT: Order denying motion for attorney fees
[Note: This post has been updated to include a response from the Center for Biological Diversity and to reflect Caltrans' assertion that no old growth redwoods will be impacted by the project.]