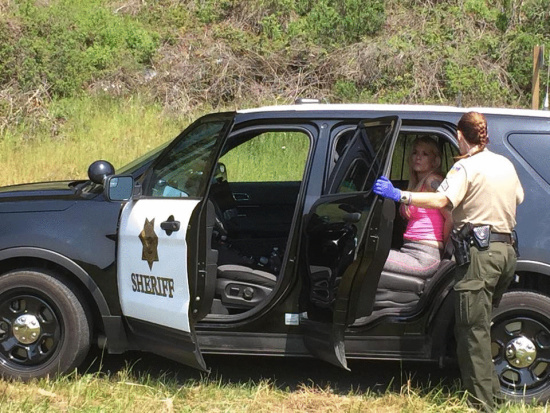 A very high-profile traffic stop has been taking place for the last half an hour or so at the exit to College of the Redwoods.
Three people have been taken into custody by a combination of California Highway Patrol, Sheriff's Office and Fortuna Police Department cars, which assembled after a car connected with a first degree residential burglary warrant out of Mendocino County was spotted driving northbound on 101 near the intersection with Highway 36.
Arrested were Crystal Rosenburg, Sarah Vickland and Joshua Wentworth, all of whom are believed to be Humboldt County locals.
The officer who spotted their car tailed it unobtrusively for some time while backup cars were called to the scene. Mendocino County law enforcement had warned that the suspects were likely to be armed.
As they traveled just north of the Fernbridge exit, local law officers decided that they had enough resources in place to attempt the stop on the presumably armed suspects. Four cars tailing the vehicle turned on their lights, but the car initially refused to yield. Finally it pulled off at CR, at which point the three suspects were detained and finally arrested.
A law enforcement officer tells the Outpost's Andrew Goff, at the scene, that their investigation is ongoing. The officer could not speak to the nature of the charges out of Mendocino County.