Eureka Police Chief Andy Mills and Humboldt Bay Fire Chief Ken Woods.
Eureka City Manager Greg Sparks broke the news to his department heads last week: The city government is once again facing a dramatic budget shortfall for the coming year, and every department is being asked to make cuts. That includes both the Eureka Police Department and Humboldt Bay Fire, the two public safety agencies voters hoped to protect by passing Measure Q last year.
That measure's half-percent sales tax is not new. When it goes into effect next year it will maintain an annual revenue stream ushered in four years ago with the implementation of Measure O. As you might recall, that tax measure was marketed during the 2010 election season as a temporary stopgap, a Band-Aid to see the city through a tight spot. With the 2010-11 budget the city had to take dramatic measures to cover an estimated $4.5 million budget shortfall: cutting staff, eliminating funding to outside groups, raiding employee retirement accounts and slashing $1.5 million from the public safety budget. In each of the years since, Measure O has generated roughly $4 million.
The half-percent sales tax created by Measure O and sustained by Measure Q is a general tax, meaning revenues go into the city's general fund and can be used on anything from police and fire services to zoo operations and street maintenance. The passage of both O and Q can almost certainly be attributed to campaigns highlighting them as the public's way to support "the most essential public services," foremost among them "police protection, fire suppression, [and] emergency medical." Voters were also soothed by the fact that the tax would expire after five years.
True to the marketing, the lion's share of Measure O funds (roughly three quarters) have gone to public safety. In this fiscal year's budget that rate went up to 99 percent, according to City Manager Greg Sparks. And yet the City still finds itself in a very similar position to last year, facing the prospect of significant cuts to police and fire departments.
So what gives? Why does this crisis seem to return year after year despite a special tax specifically designed to protect public safety? The primary culprit, says Sparks, is the rising costs of such things as CalPERS (the public employee retirement system), workers' compensation and property liability insurance. Plus, the expenses for police and fire services have skyrocketed, more or less doubling over the past decade, as shown in this graph from the city's current budget: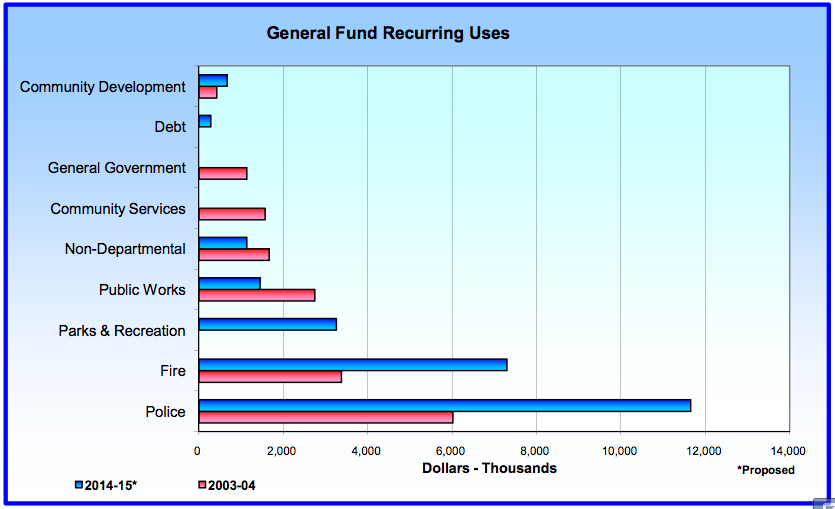 The Outpost met up with Eureka Police Chief Andy Mills and Humboldt Bay Fire Chief Ken Woods this afternoon as the two were talking over cups of java outside Old Town Coffee and Chocolates. Mills said he wasn't quite prepared for the news delivered at last week's department head meeting.
"I was caught by surprise," he said. "I knew [the budget] was going to be tighter, maybe a little bit of a deficit, but not to this extent." His department alone is facing an annual cost of $890,000 to cover unfunded liabilities built up by the CalPERS system.
But Mills emphasized that the budget problems are being faced by every department in the city, and the police department shouldn't be seen as a sacred cow.
"I know that the focus is frequently on public safety, and I think it should be," he said. "But this has to be a livable city. And there's a lot of things that make it livable. Parks and Recreation, streets, lighting, sewage — you gotta have that, and we're the biggest part of the budget, so obviously the money's gonna have to come from us."
Some of it, anyway. Woods also expressed a willingness to cut his budget, though he pointed out that the city is already saving $500,000 a year thanks to the joint powers authority that merged the Humboldt No.1 Fire Protection District and City of Eureka Fire Department.
"We're gonna do our best to provide the services that we need to, but if we have to cut then we're going to," Woods said. "And we're gonna work with it. But we need to fix the problem now."
The problem, according to both men, lies in the underlying structural issues that have made budget shortfalls a recurring event. Mills and Woods are both confident that the current city manager, Sparks, is taking steps to address those fundamental issues.
"I am grateful — and I've talked to Ken about this — that we have a city manager who's willing to take this on rather than kick the can down the road," Mills said. "We've kicked the can, kicked the can; now it's at our feet. We gotta figure out what to do. Ken and I hate being the bad guys in this thing. And I've lost sleep. I feel terrible for the folks we're gonna have to lay off if council approves [the proposed cuts]. But at the same time, I've got to do what's right for the city."
In an internal memo to his staff that was leaked to the Times-Standard, Mills said he would not propose cutting any sworn officers, instead suggesting the elimination of public safety officer positions, temporary staff and annuitants as well as dropping a lieutenant's rank to "officer."
Outside the coffee shop, Mills said he understands why Eureka residents might be frustrated.
"This is not popular, and we get that — especially with people who voted in large numbers for Measure Q. They don't want us to touch public safety, but I agree with Ken 100 percent: Let's fix it now. We fix it by bringing our expenses in line with what our revenues are." One suggestion he had was looking at shifting from defined benefit pensions to 401(k) accounts, as some cities have done. Over the last five years, according to Sparks, 25 percent of Measure O funds have been consumed by increasing pension costs.
So should residents accept that this half-percent sales tax we're paying is the new norm? Will a Measure R or S follow on the heels of Measures O and Q? Woods said maybe so.
"I think they should not have put the sunset clause in [Measure Q] because the track record is there; the expenses continue to go up," he said. "If you want to pay for fire, police, those basic services, then that's part of the equation. And people have to make a decision, what's their priorities?"
"And what level of service they want," Mills chimed in.
In a phone interview this afternoon, Sparks said the city has taken steps to reduce administrative costs — by eliminating the assistant city manager position and combining the positions of building director and public works director. City officials have also taken a closer look at how administrative costs have been allocated among individual departments, "and we realized that some departments were not paying as much as they should have," Sparks said.
On top of these measures, Sparks said he thinks the city needs to make difficult budget cuts this year, including the closure of one of the city's fire stations. By making such cuts, he said, "we really believe we'll be able to avoid some of these big budget issues in the following year."
Of course, all of these cuts are so far hypothetical. At next Tuesday's meeting of the Eureka City Council, Sparks and Eureka Finance Director Wendy Howard will give a short presentation, and the council will set up study sessions. The final budget will be adopted by the council on June 2.
"It's certainly my job to provide them with a balanced and sustainable budget," Sparks said, "and I think that's what we'll accomplish."
The public is also encouraged to weigh in.