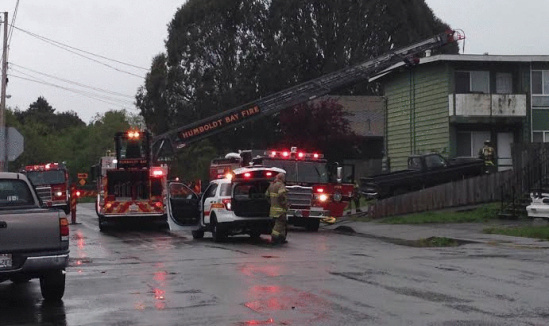 (Photos courtesy New York Times bestselling author Amy Stewart)
LoCO readers alert us to emergency personnel activity at an apartment complex near the corner of Ninth and O streets in Eureka. Humboldt Bay Fire has dispatched multiple fire engines to the scene.
According to scanner traffic, light smoke was seen emanating from the second story. The situation seems to be under control. LoCO will update when we know more.
# # #
UPDATE, 6:04 p.m.: Humboldt Bay Fire press release:
Humboldt Bay Fire responded with three engines, one ladder truck and two Chief Officers to a structure fire at 916 O Street. Upon arrival the first unit on scene reported smoke coming from an apartment in a two story apartment complex.

The first engine made an interior attack on the fire which was located in a first floor apartment while the truck crew ascended the aerial ladder to cut ventilation holes in the roof and check for fire extension. Subsequent arriving units shut off the utilities and assisted the occupant who had suffered smoke inhalation. The fire was quickly contained to the apartment of origin. No additional victims were located and the occupant was transported to St. Joseph's hospital for treatment.

HBF fire investigators determined the cause of the fire to be an unattended pot of food on the stove and the apartment sustained extensive fire damage to the kitchen and smoke damage to the remaining living areas.

Humboldt Bay Fire reminds everyone to never leave unattended food on the stove while cooking and to always have working smoke detectors in your residence.